TOY STORY
Toys Get Play in Short-Form
In the past two years, marketers have become relentless in taking on the challenging, but highly lucrative toy category—or, as the IMS Report classifies these products, Entertainment, Crafts & Hobbies, and Novelties. Among the many new products introduced to the market in 2014, the Phantom Saucer (TeleBrands) populated the IMS Report's Weekly Top 25 Spot Rankings throughout the year. Not-new-but-improved products such as Hampton Direct's Lumidough benefited from new creative. Today, DRTV advertises these products and a host of related items, which are also sold at major retailers.
Where Do Toys Live on TV?
Historically, broadcast television markets have been a key driver for toys and related products. Since 2008, cable networks have proven to be an effective medium for niche audiences, challenging agencies to make more efficient media buying decisions. Broadcast networks typically offer "fire sales" or last-minute offerings to entice spending in short-form. But marketers have learned that in a category like Toys, efficiency and precise planning are key, especially to maintain the momentum of a successful year. In Q2 2014, Media Analytics noted a consistent trend in these categories: Campaigns tend to air with more frequency and longevity in targeting children and their parents. We anticipate products in these categories to appear more frequently throughout the report in 2015.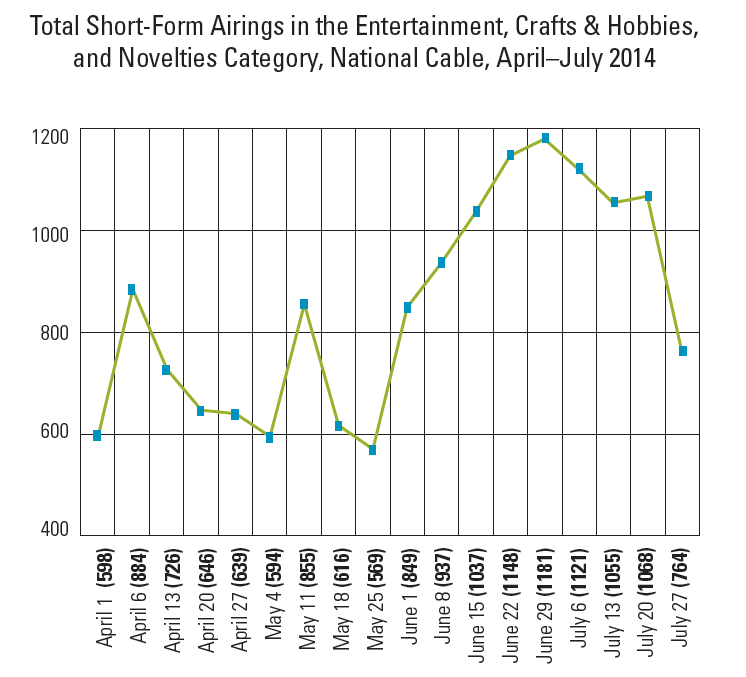 BEHIND THE NETWORK: DISNEY XD
Testing: Why the Network Still Matters
As the omnichannel module evolves, marketers constantly ask, "Will television become obsolete in DR?" But statistics continue to show that in spite of multiple screens, television still comes out on top. These findings reassure both marketers and networks on the importance of viewer retention and continue to build upon the relationships of consumers, networks, and brands. The Phantom Saucer is an advanced product in the toy category. In 2014, the :120 aired frequently on two types of children's networks: Sprout and Disney XD. Sprout targets preschoolers aged 3 to 5, while Disney XD offers live-action and animated programming for kids aged 6 to 14. Sprout has shown 40 percent of the spot's airings so far, and this could be a determinant of the retailers that will drive this product in 2015.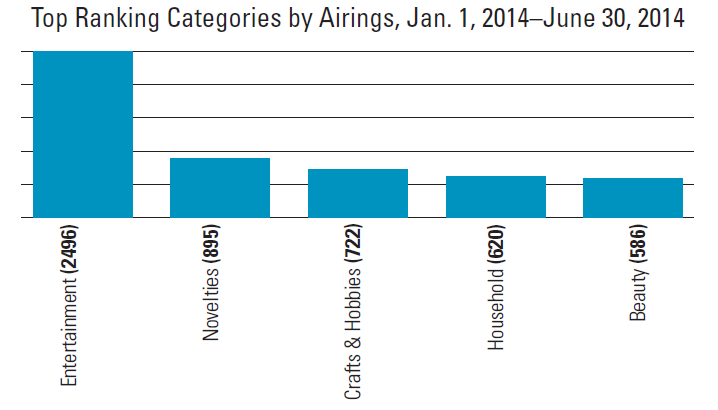 © Copyright 2014 Media Analytics, Inc.™ All rights reserved. www.imsreport.com. Address: 10 North Church St., West Chester, PA 19380. Phone: (610) 328-6000. Email: [email protected] Media Analytics is a media research and monitoring company that produces the IMS Report on a weekly and monthly basis. The IMS Report is based on the frequency of long-form and short-form DRTV on national cable networks. No part of any IMS report may be reproduced or transmitted in any form, electronic or mechanical, including photocopy, or any information storage and retrieval system without permission in writing from Media Analytics and the IMS Report. Media Analytics is not responsible for any loss due to errors or omissions in information provided, or for any loss of service due to technical or other difficulties. Visit www.imsreport.com for more information.