Meglena Kuneva, EU Commissioner for Consumers, on cross-border e-commerce, self-regulation and the future of the European home shopper
By Robert Logie
The EU Commissioner for Consumers, Meglena Kuneva, was keynote speaker at the recent Government Affairs Forum at the ERA European Conference and Expo in Monte Carlo this June. In her speech, she delivered a hugely positive message for the electronic retailing industry in Europe, outlining her vision for her area of responsibility: that it becomes less about the protection-and more about the empowerment-of the European citizen. The Commissioner believes that Europe's economic growth will come in large part through commerce, with the citizens of Europe very real participants in that growth. She predicts that retailing, and the electronic retailing industry, will play a large and significant role in this growth process.
ERA Europe was recently granted an exclusive, one-on-one interview with Mrs. Kuneva.

ERA Europe: In many of your public statements since you took office as Commissioner, especially in your recent speech at the Internal Market Committee of the European Parliament, you have consistently portrayed the consumer as a driving force in the construction of a "Commerce without Frontiers" in Europe. Why is cross-border retailing still so marginal when so many free circulation concepts have been debated, decided and implemented over the last decade in Europe?
Commissioner Meglena Kuneva: We have carried out a lot of research to answer this question. There is clearly a real problem here
Fifty percent of consumers with an Internet connection at home have bought online, but only 12 percent have bought cross-border online. Fifty-seven percent of EU retailers sell through e-commerce and nearly 50 percent of these retailers would be prepared to sell cross-border in at least one other EU country. Yet, only 29 percent of them actually do so.
The reasons why cross-border retail has not developed until now fall into two main categories. First, until e-commerce and distance selling were developed, cross-border shopping was bound to be limited to consumers going on holidays, those travelling for work and to consumers living in border regions. Second, the measures that have been undertaken to date have mainly focused on the business-to-business side of the market.
Now that e-commerce and distance selling is firmly established, we need to ask why they have not taken off cross-border. After all, the Internet itself is borderless. The main barriers holding back the development of business-to-consumer, cross-border retail trade seem to relate to a lack of confidence on the part of consumers and the fragmentation of the legal framework, which holds back businesses.
The evidence shows that lack of consumer confidence deters consumers from completing cross-border transactions. Forty-five percent of consumers feel less confident in making purchases from businesses located in other EU countries. Consumers are reluctant to carry out such transactions because they are not sure that the level of protection they enjoy at home will be the same as when they buy from abroad. Seventy-one percent of consumers believe that it is harder to resolve problems, such as complaints, returns, price reductions, guarantees, etc., when purchasing from businesses in other Member States. In general terms, 56 percent of consumers are of the opinion that, when purchasing from businesses in other Member States, businesses are less likely to respect consumer protection laws.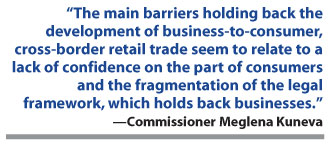 On the business side, the most important obstacle to cross-border retail trade is the perceived insecurity of transactions. At the same time, it is also clear that retailers are deterred from making cross-border sales because of the fragmented legal environment. Fifty-eight percent of retailers are concerned about national fiscal regulations, whereas 55 percent by the extra costs of compliance arising from different national laws regulating consumer transactions.
Clearly, a range of action is needed to address these issues. As a priority, I believe it is necessary to modernize and simplify the legal environment. The Commission is currently reviewing such legislation and is carrying out a public consultation. Without prejudging the outcome of the consultation, I firmly believe that in order to empower consumers and have an efficient European retail market, it is necessary to have full harmonization in selected key issues at the EU level. A greater uniformity of rules will reduce compliance costs and make it easier for businesses to venture beyond their national markets. Unified rules do not mean that protection will be compromised, since harmonization will take place at a high level as is required by the EU treaty.
ERA Europe: Do you believe that an increased "Commerce Without Frontiers," at the retail level, will have a positive impact on European economies?
Commissioner Kuneva: Opening up the EU cross-border retail market is the key to unlocking the potential of the retail internal market. A truly integrated market where consumers can compare and purchase from sellers from around the EU would trigger competition and reward the most efficient retailers. The development of cross-border retailing as a credible alternative to national retailing leads to greater choice and competition. For this "integration effect" to take place, it does not require all or even a majority of consumers to do most of their shopping cross-border.
The deepening of the internal market will lead to a better allocation of resources, boost innovation and improve the overall competitiveness of the European economy.
It would also help to boost the external competitiveness of the EU, if Europe becomes a trusted destination for e-commerce for businesses from around the world. At the same time, higher competition will make European companies more productive and efficient, thus making them more competitive in international markets.
ERA Europe: We, as the electronic retailing industry representative organization, were impressed by the vision you've promoted since you took office, of a well-educated, well-informed, well-protected electronic home shopper, using the power of all digital media including TV to shop across borders. What are the three major issues that you believe need to be resolved for this vision to become a reality?
Commissioner Kuneva: E-commerce has made tremendous leaps over the past few years and I believe there is significant potential with the switchover to digital TV. Yet evidence shows that we are far from having reached full potential. Characteristically, in 2006, 27 percent of EU consumers made an e-commerce purchase, yet only 6 percent made a cross-border e-commerce purchase. There is no fundamental reason why e-commerce or other forms of distance selling should be restricted to domestic markets. My vision is to create an environment in which consumers have the same rights anywhere they shop in the EU, while businesses have a level playing field across the EU. This will increase their confidence and encourage e-commerce.
The consumer policy strategy is built around three main objectives which will spur e-commerce and other forms of distance selling, both domestically and cross-border. The strategy aims to empower consumers, enhance consumer welfare and protect consumers effectively.
As I have said already, the priority is to put in place a better consumer protection regulatory environment. At the same time, it is necessary to focus on enforcement and redress. The Commission will work closely with Member States to transpose the Unfair Commercial Practices directive by the end of this year. The proper implementation of this directive will, I hope, make it considerably easier for ERA members to market freely throughout the EU on the basis of a single set of rules.
We will also encourage further cooperation of our enforcement networks in different Member States to crack down hard on cross-border rogue traders. To encourage e-commerce, consumers also need to feel confident that there are effective mechanisms for consumer redress. In the next months, I will examine the question of collective redress looking to ensure that consumers have all necessary options at their disposal in case things go wrong.
Finally, I believe that in order to effectively promote cross-border e-commerce, it is key to have better-informed and educated consumers. The European Consumer Network, which should be extended to all 27 countries by the end of the year, advises and informs consumers on cross-border cases. The Commission will continue financing the centers and managing the network. We will also continue our information campaigns in the new Member States to help make citizens aware of their rights while at the same time encouraging the development of education tools that can make consumers more informed and proactive.
ERA Europe: We understand and fully support the expectation you have that legislators in European institutions and in Member States will finally agree to modernize and greatly if not fully harmonize the rules and regulations governing commercial relations between retailers and consumers in Europe. What are your expectations regarding the role and attitude of the business players in the construction of this "internal commercial consumer market?"
Commissioner Kuneva: My aim is to create a fully integrated internal market for retail sales. In order to achieve this, the current regulatory fragmentation of the rules governing business-to-consumer contractual relations needs to be removed. The best way to solve this problem is through harmonization. When I say "harmonization," I do not mean that the entire consumer contract law should be harmonized. Harmonization at the EU level should focus on the issues that are most crucial in order to remove internal market barriers and increase consumer confidence.
Harmonization will be of considerable benefit to business by reducing the cost of compliance with diverging regulations. It is therefore crucial that business players inform the Commission about the regulations that cause particular problems. The Green Paper Consultation provides business with the opportunity to do this, and I am most grateful for the constructive contribution from ERA. I should also add that contributions from business players underpinned by data are particularly valuable.
ERA Europe: What are your thoughts on self-regulation?
Commissioner Kuneva: Contractual relations between consumers and businesses are traditionally regulated by law. And I believe binding legislation will continue to be an important instrument for consumer policy. Nevertheless, I see self-regulation as a valuable complement to-not a substitute for-legislation. The question is how law and self-regulation can and should interact in a modern consumer policy framework.
We have started to discuss key components of effective self-regulation with all relevant stakeholders involved in advertising self-regulation. We set up a Round Table on Advertising during 2006, which led to the publication of a final report that attempts to define a best-practice model for self-regulation. There was general recognition by those involved in this debate that consumer trust and confidence in the effectiveness of self-regulation is the basic pillar supporting the use of self-regulation as an additional instrument of consumer protection.
Robert Logie is editor of ERA Europe's NewsShop. He can be reached via e-mail at [email protected].