Jim Spanfeller, president and CEO of Forbes.com, talks about making the transition from print to online and how emerging technology is changing the marketing landscape.
By Vitisia Paynich (Photo by Roger Hagadone)
"I think…people make the assumption that the web is a new medium. And, in fact, that's like calling electricity a medium," says Jim Spanfeller, president and CEO of Forbes.com in New York. "The web itself is a delivery mechanism. It's like electricity and the post office all rolled into one."
In 2001, Spanfeller was appointed as chief executive and executive vice president of electronic publishing at Forbes.com to guide the company's strategic and operational management efforts. In 2006, Spanfeller added another title to his résumé when the Interactive Advertising Bureau (IAB) elected him as its chairman.
Electronic Retailer spoke one-on-one with Spanfeller to discuss not only his role as CEO of one of the leading online business and financial news resources in the U.S., but also his thoughts about how online publishing is affecting print advertising, how emerging technology is impacting the way readers prefer to receive content, as well as what challenges marketers and advertisers face when balancing their print marketing message with their online one.
THE TRANSITION
Spanfeller is no stranger to online or print publishing. In fact, he has spent the past three decades in key positions within the industry.
"I got into the [magazine] business around 1981," he notes. Spanfeller worked at various publications such as Newsweek on Campus for Newsweek magazine and Playboy magazine.
From there, Spanfeller transitioned to Inc. magazine, where he became publisher. In 1996, Ziff Davis Media Inc. tapped him as founding publisher of Yahoo! Internet Life. Spanfeller says, "It was one of the first publications, and arguably the most successful, around content on the web."
Spanfeller moved into another position within the Ziff Davis organization, serving as president of the company's Consumer Magazine Group, which included such titles as PC Magazine, Yahoo! Internet Life, Expedia Travel and Smart Business.
In late 2001, Spanfeller drew from his many years of publishing experience to take on the top position at Forbes.com. So, did having some experience in online publishing help make the transition easier?
"If you were to ask me that prior to my starting at Forbes.com, I would have said yes," admits Spanfeller. "However, as I found out quickly, the first six to seven months I was at Forbes.com, I went home every day with a headache. Everything was so different and new. He explains that there was such a learning curve in the beginning, "which on one hand, was very exciting but on another hand, was extremely painful."
Spanfeller eventually overcame the hurdles in the position and began formulating a strategy that would take Forbes.com to the next level.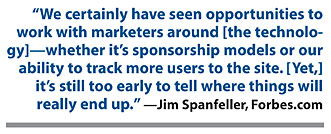 INFORMATION WHENEVER THEY WANT IT
Today, Forbes.com attracts over 15 million unique visitors worldwide, offering the latest news on finance, business and technology. Forbes.com publishes over 2,000 stories a day and like its print counterpart, the site targets "C" level executives and decision-makers around the world.
The focus of Forbes.com and Spanfeller, however, is to be as easily attainable for consumers no matter how they choose to access the information-whether it be via a PC or handheld wireless device. What's more, the company's goal is to deliver content that is also easily accessible based on readers' preferences, such as text, data, video or audio.
Under Spanfeller's leadership, Forbes.com expanded its site offerings to include such features as: ForbesAutos.com, personalization and new channels.
In May 2005, the company launched ForbesAuto.com, an "in-market" automotive site that caters exclusively to the luxury market. The new site has been so successful that it has been averaging 1.4 million unique visitors on a monthly basis. In fact, ForbesAuto.com has become one of the top 15 automotive sites.
Forbes.com also introduced a feature, called Forbes Attaché, which is a personalization tool that enables readers to organize their Forbes.com content into a customized application.
The company also unveiled new channels on its site, including an Entrepreneurs channel for small business owners and budding entrepreneurs, as well as an Opinions channel to give others a forum to express their viewpoints.
EMBRACING EMERGING TECHNOLOGIES
In order for Forbes.com to truly be the most accessible online business and financial news source, Spanfeller realized that the company had to integrate new technology into the company's business strategy.
"RSS [Really Simple Syndication] is clearly going to be a major component going forward," he asserts. Although RSS is still in its infancy, Spanfeller contends it's growing rapidly "and it's without question a way that people will customize the web to be appropriate for their desires or interests. We're [even] seeing a very large uptake every month for our 50-plus RSS feeds that we offer."
Video streaming is an area where Forbes.com has gone full force in developing original programming. In 2005, the company built two video production studios, where they produce 50 to 60 original programs weekly. Blue-chip companies like BMW, IBM and Sun have even invested in streaming video advertising with Forbes.com.
Spanfeller believes videopodcasting and podcasting, although usage among consumers is still relatively small, will eventually become a viable tool for consumers.
"There are not huge amounts of user-ship yet anywhere for audio or video podcasts or MP3 casts in a non-Apple environment, but I think that there will. And it's clear that the ability to take a very selective amount of content with you as you travel or as you commute will have relevancy to some number of the people-whether there will be huge numbers of people remains to be seen."
He adds that it will be interesting to see whether consumers will become more audio, text or video based. Still, Spanfeller says, "the lines between those different things are going to become more blurred, as the technology continues to be more robust and as connectivity continues to expand.
"Those things I think are great opportunities. We certainly have seen opportunities to work with marketers around [the technology]-whether it's sponsorship models or our ability to track more users to the site. [Yet,] it's still too early to tell where things will really end up."

GETTING RID OF THE WASTE
One of the advantages that online advertising has over other marketing channels, of course, is the capacity to track advertising more quickly and, sometimes, more accurately. According to Spanfeller, advertising via the web gives companies the ability to track advertising in a much more granular way, and it enables them to track not only the interaction of the advertisement but also the response to the ad or series of ads.
In fact, there are applications available on the market that don't just pinpoint a single click on an ad but they also provide an indication of the cumulative effect of frequency in advertising in an online environment. Given all of that, Spanfeller predicts more and more marketing dollars will be moving from offline to online.
"Wrapped up in that notion of accountability is mass targetability," he notes. "We have 15 million-plus unique visitors on a monthly basis, which suggests that we are the largest assembler of business information in any medium, anywhere in the world. That's great and it's fun to say; however, it's probably more germane to [advertisers] that we can target within that 15 million and growing user-ship to folks who are most appropriate for that advertiser's message. So, you get that as [a] big reach but you get to have it in a way that cuts out the lion's share of the waste that was inherent in media in the past."
Is print advertising in trouble? As Spanfeller puts it, "There's a very severe and very steady decrease in newspaper readership. There has been an [arguable] decrease in magazine readership [as well], even though it's less pronounced by a long shot than newspapers. And, I make that point not only because I'm defending our offline counterpart, [the magazine], but more importantly, I think the more frequent that something is produced as it relates to media, the more disruptive the web is."
Part of the uphill battle that print faces in terms of competing with the web is the time factor. While print newspapers and magazines require more lead-time to produce and distribute content, online publishers can post breaking news items almost instantaneously.
However, Spanfeller believes there are still a good number of readers as well as advertisers who are involved with a little more leisurely review and predictive outlook. "I think that disruption will be less intense and less immediate in impact," he states.
LOOKING AT THE TRENDS
Going forward, Spanfeller says video will become a bigger player. He also believes there will be more demand for content focused on vertical industries and markets. From a publisher and marketer standpoint, he says push and pull will remain a key trend. "E-mail RSS is a key example of that," he explains.
Another significant trend is alert e-mail and newsletter opportunities, where consumers ask to receive information about a specific topic. This enables marketers to tie into that value chain.
As for companies that marketers should pay close attention to, Spanfeller says it will be quite interesting to see what happens with the networks and the cable companies and how they approach online advertising. "You'll see a variety of things, [such as] the way NBC or CBS will make strong statements moving forward on the web," he notes.
STAYING RELEVANT
So what can marketers do to remain relevant in the offline and online marketplace? Spanfeller says, "The quality of advertising is going to improve and it will happen as two things [occur]: One, people will move more of their top creative talent [toward] producing online creative; and two, as that talent becomes more experienced with dealing with the web, that will have impact as well.
"And, of course, the great thing about the web and what moves the platform so quickly forward is the fact that you get immediate response. And that response, if you're smart, can be used to create value on a go-forward basis, because you will find out what did work and what didn't work."
We would appreciate your feedback. To submit comments, please e-mail the magazine at [email protected].