Is your product ready for the European home shopping market? You better study the market before making that leap.
By Vitisia Paynich
For years, the U.S. home shopping market has set the standard for other home shopping channels around the globe, with giants like QVC and HSN leading the way. In fact, many European shopping channels have carefully mirrored their business models with the goal of matching their success, or at least following their strategy to enhance their presence in their respective markets. With that said, does that mean successful U.S. marketers or vendors are destined to explode onto the European market? Well, not quite.
Having an established product that has sold like gangbusters on American home shopping is a relatively small part of the big picture. It's obvious that while there are many similarities in structure between U.S. shopping channels and their foreign counterparts, marketers cannot assume a one-size-fits-all scenario. You should seriously weigh the pros and cons before breaking new ground in unfamiliar territory. Let's first examine a few key home shopping channels in Europe. Although not every European home shopping company is featured, this will give you some idea about the landscape.
LANGUAGE BRIDGES TWO MARKETS
To trace the earliest success stories of the European home shopping market, a logical first step is to look at the market that shares a common language with the United States: the United Kingdom. Beginning with QVC UK, this British version of the American shopping channel launched operations on Oct. 1, 1993. The channel has produced 17 hours of live television programming for the past 11 years, and has attracted a television audience of nearly 16 million. This includes satellite, cable and digital terrestrial television. Digital terrestrial is the largest among the three platforms.
"We were initially a joint venture between QVC and BSkyB, but approximately a year ago, QVC bought Sky's ownership of it and now [it] owns all of QVC UK," notes Dennis Reustle, SVP and director of commerce for QVC UK. "We were the first television shopping channel outside the U.S. that QVC attempted, and we were also the first TV shopping channel in the U.K."
How large is the home shopping market in the U.K.? Reustle estimates a range between £750 million to £1.4 billion (U.K.). In addition, there are currently 40 shopping channels in the country.
Another first for the shopping channel was to adopt interactive television technology. Reustle says, "In September of 2001, we were the first live television channel to create a buy button, which allows a customer with a remote control to purchase an item [right from the television]."
From a product standpoint, the categories that have enjoyed great success in the States, will likely fair the same in the U.K. However, Reustle warns U.S. marketers must be patient because the outcome will not occur overnight. "After we've seen the success of a product on, let's say QVC U.S., it can take anywhere from several months to two years to get the product [on-air]," he says. It's simply because those products must go through a process of evaluation and quality assurance, and to make certain that products meet regulations.
Each year, QVC UK puts nearly 10,000 new items on-air. Some of the most widely recognized U.S. products to make it on the channel are Prescriptives cosmetics, Dell and HP computer products, as well as electronics from JVC. American celebrities have also found success in the U.K., including actress and comedian Joan Rivers who appeared on the channel to promote her fashion jewelry line.
Although putting a U.S. product on QVC is not without its challenges, Reustle contends that it's easier for marketers to get their products on-air in the U.K. first because of the common language. "And then once it's successful here, that success can [translate] into QVC Germany or even QVC Japan," he says.
Mamen Díaz of European Home Shopping in Madrid, Spain, demonstrates the 6 Second Abs product.
DEREGULATION OPENS DOOR TO OPPORTUNITY
At the end of the 1990s, the U.K. government deregulated television licensing. That opened the doors to new opportunities and new types of television programming. Also, in an effort to free up bandwidth, the government embraced digital broadcasting technology. By 2010, all British TV households will be transferred to digital.
"As a result of deregulation and the increase of bandwidth, we saw an opportunity to launch our own live shopping business," says Paul Wright, chief executive of Ideal Shopping Direct in the U.K. Thus in April 2000, Wright and his company launched Ideal World.
Ideal Shopping Direct was founded in 1999 as a catalog business, publishing and distributing 65 million catalogs annually. "We saw an opportunity using my traditional mail order business, because we [already] had a call center, warehousing and customers. The only thing we needed was another route to market, [and that was] television," says Wright.
Today, Ideal World reaches 2 million homes on cable, 7.5 million homes on satellite and 5 million homes on the digital terrestrial platform. "That gets us into just over 50 percent of the U.K. market," he says. Wright adds that as the market continues to migrate from traditional analog broadcast to digital, the audience base will expand. And because Ideal World is available on all three platforms, once the switch over occurs, the channel will have 100-percent market penetration. That translates to 26 million homes.
So, what does it take to get a product on Ideal World? Wright says, "We will air virtually any product, providing that vendors have demonstrated that they have passion, knowledge and commitment to their product. The bottom line is, however, nine out of 10 products that go on-air don't sell. We give them their shot at the title and sufficient airtime to do their pitch and at the price point that we negotiate."
However, Wright cautions that knowing which item will ultimately be the winning product is anyone's guess. And if you believe a successful product is measured by the time of day, he says think again. "Primetime is exclusively determined by the appeal of the product. So, in other words, if you've got a product that a viewer wants, they'll buy at any time of day or night," he asserts.
HOME SHOPPING REACHES 3.5M HOMES IN SPAIN
In 1993, European Home Shopping opened its doors for business but in a different capacity. "Initially, we were distributing American infomercials and DRTV spots into Spain and other parts of Europe," explains Alexander Chacón, president of European Home Shopping in Madrid. "So, [at the time], we were just licensing and distributing."
The company soon realized the growth opportunity in the country and in 2001, launched a 24-hour home shopping channel similar to QVC and HSN. "We own and operate our own studios 365 days a year," notes Chacón. In addition, the company has established itself as a full-service operation-not to mention the lone home shopping channel in the country-with its own call center, logistics capabilities as well as ownership of 27 television stations across Spain.
According to the most recent census, there are 14 million TV homes in Spain. Chacón says that of that total, his channel reaches 3.5 million homes, which is about 25 percent of the television home market. So, how large is the home shopping market in the country? By European Home Shopping's own estimates, Chacón contends that it's between €250 and €400 million (EU).
Getting products onto the European Home Shopping channel is a process not unlike QVC and HSN. "In fact, our contracts look very similar to theirs," says Chacón. "Even on our Website, we encourage product suppliers to submit products to us."
What's more, the channel has a merchandising department that evaluates submissions and even travels the globe to conferences and trade shows in search of more products.
Chacón explains, "Obviously, it's easier for us to take on a European product, because of the logistics and maybe because of the [similar] mindset. Having said that though, we are distributing hundreds of American manufactured or marketed items. And, we've been working for the past decade with companies like Guthy-Renker, IdeaVillage, Telebrands Spain, etc."
Although European Home Shopping has had success in the same categories that have prospered in the U.S.-such as health and beauty and fitness-not every U.S. category has transferred its success across international waters. For instance, the channel has not been able to crack the jewelry market. Another major example is ingestibles. Weight-loss supplements have been the dangling fruit for potential sales in Europe. Chacón acknowledges that potential and says, "We see the Relacores [and the Leptoprins], but they're not typically marketed here because we know the difficulties of getting the regulatory approvals. Some have tried to do it and suffered the consequences."
He is quick to point out; however, that regulations in each market are different. Chacón contends that the U.K.'s equivalent to the Federal Trade Commission (FTC) is very strict-whereas, Spain, Portugal, Italy, etc., may have a different or less restrictive regulatory structure with regard to products being marketed. He cites testimonials and claims as prime examples.
In addition, actions by foreign government agencies can have a far-reaching impact. Chacón recalls when the Body Flex product was flagged by the FTC. "In fact, we were marketing the product successfully in Spain," he says, "[but the FTC] blocked the product from being sold in Europe because they were uncomfortable with the claims." Thus, the U.S. marketer ceased shipping the Body Flex product to his company.
Incidents such as these should not discourage U.S. marketers from entering the market. What is the benefit? "Europe is the biggest television market in the world." Chacón explains. "There are 140 million households-bigger than the States."
ITALIAN SHOPPING CHANNEL GOES FULL SERVICE
In late 2000, Home Shopping Europe (HSE) was founded as a home shopping organization and purchased as a broadcast channel-one of 12 national broadcast channels in Italy. The channel, however, underwent various transitions during its early inception including a shift in ownership. In fact, HSN was a minor shareholder in the channel during that time, but pulled out in 2003.
Marco Ficarra, founder and CEO of HSE, says the channel began as a 24-hour channel. "In March 2001, we had to create our own infrastructure [with] our own call center and system to manage the deliveries and so on," he says. Ficarra adds that by the end of 2003, HSE had transformed into two businesses: a business-to-consumer organization and a support services entity that offered TV production services, media services, call center services and teleservices.
Today, Home Shopping Europe reaches between 1.5 and 2 million unique television viewers everyday. As for market size, Ficarra gives a very rough estimate. "The market should be between €500 million and €1 billion ($650 million to $1.3 billion U.S.)."
HSE is the only home shopping channel in Italy to date. According to Ficarra, HSE closed the 2004 fiscal year with approximately €50 million ($70 million U.S.). What's more, the company passed the 1 millionth customer mark in April 2005.
How does home shopping in Italy compare to the United States? Ficarra says while the market is comparatively smaller than the U.S., the Italian market in structure is relatively the same. In fact, some HSN vendors have found their way onto HSE, especially in the beauty, fitness and hardware categories. The format of live shopping with hosts who demonstrate products on-air is also similar.
LIVE SHOPPING REACHES 5.2M HOUSEHOLDS IN FRANCE, BELGIUM
When you think about home shopping in France and Belgium, there's only one channel available. M6 Boutique La Chaîne is a 24-hour live shopping channel operated by Home Shopping Service (HSS), which is owned by Groupe M6.
The television landscape in France is divided into three platforms: terrestrial (23 million households), satellite (3.5 million subscriber households) and cable (2.2 million subscriber households), while in Belgium, there are 4.4 million total subscribers to satellite and cable. In both countries, M6 Boutique La Chaîne reaches a total of 5.2 million housesholds through cable and satellite in France, with the potential to reach another 2.2 million households in other French-speaking European countries. Furthermore, M6 Boutique La Chaîne showcases 15,000 products annually and provides eight hours of live shows everyday.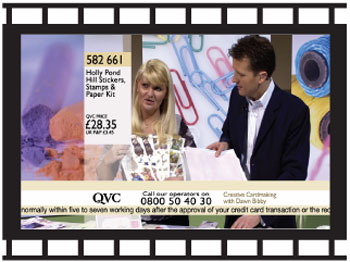 Dawn Bibby (left) demonstrates to television viewers the Holly Pond Hill Stickers, Stamps & Paper kit on QVC UK.
What are the distinct differences between the U.S. and home shopping in France? Gilles Labouyrie, vice president of marketing and merchandising for HSS and chairman of ERA Europe's Board of Directors, says there are two main differences. "First, our channel is the only one in the market; [and therefore], we have no competitors to grow the market. Second, only 25 percent of the French households (5 million) can watch our live channel; therefore, the potential for large volumes is quite limited."
Although there are distinct differences, Labouyrie says the process for getting a product on-air in France is the same as in the States. The supplier must submit the product along with a detailed description of the consumer benefits. "We also prefer to select products [that] can support a 'product story,'" he suggests.
While home shopping in France is a small market when comparing it to the States, brand names are no stranger to M6 Boutique La Chaîne. The channel has featured products from name-brand companies like Canon, Brother, Epson, Hewlett-Packard, Samsung, Cuisinart and Tefal.
Home Shopping is strong in Germany
Three years after debuting on British television, QVC launched in Germany on Dec. 1, 1996, and today, is considered one of the fastest growing companies with a market share of over 50 percent and a customer base of 3.9 million. QVC Germany reaches more than 35 million television households, which include satellite reception via analog and digital. In 2004, the channel netted €516 million in sales.
The Federal Association of the German Mail Order Business estimates that the teleshopping industry will top the €1-billion mark in 2005. QVC Germany has even surpassed its sister company in the U.K. due to a larger number of TV households.
In terms of infrastructure, the channel follows its U.S. and U.K. siblings. "The process of presenting a product and ordering the product is the same," says Bob Kendig, executive director of sales and marketing at QVC Germany. "Marketers have to send our buyers a sample of the product they want to sell. [Then] the buyer finds out if the product will meet the expectations of the customers. If the buyer gives his [or her] okay, the sample has to pass our in-house Quality Assurance testing." He adds that the department carefully inspects each individual sample.
"Safety, functionality, design, clarity of instructions and packaging, and naturally, [the product's] adherence to German and EU guidelines, are thoroughly checked. Only when the product passes all aspects of our tough Quality Assurance Test does it go on-air," explains Kendig. He adds that U.S.-based marketers must go through the same process as local marketers.
Some of the more successful U.S. products that have appeared on QVC Germany include Smashbox Cosmetics, Denim & Co., Citiknits and Indigo Moon.
HOME SHOPPING EXTENDS TO RUSSIA
On May 1, 2005, home shopping expanded to Russia when the TV-Club Company launched to an estimated television audience of 11 million viewers in Moscow and the Moscow region. According to the company, the channel will eventually launch in other major Russian cities within the next six months, with a predicted audience of 80 million viewers.
In addition, the new channel offers 20 hours of programming on Channel 2×2 seven days a week. The programming coincides with the major product categories covered by other home shopping channels, including kitchen items (cooking products), home goods and beauty items. The channel also boasts a 90-line call center that can handle 10,000 calls per day and operate 24 hours a day, seven days a week.
AVOIDING THE PITFALLS
As stated earlier, each of these European markets have adopted certain characteristics established by U.S. shopping channels, but U.S. marketers must also consider the differences that separate the domestic and international markets. QVC Germany's Kenig also points out the differences between other home shopping channels in the U.S. vs. QVC Germany.
"In contrast to the U.S., German customers prefer ordering on account, whereas in the States, the credit card is the favorite method of paying. Another difference is that at QVC Germany, customers who place several orders in the course of a day can receive their goods in one delivery, thereby paying only once for shipping costs. In the States, the customer pays for each delivery although all products are ordered on the same day," he explains.
European Home Shopping's Chacón also cites payment methods as a distinct difference between the European and U.S. markets. "Most of Europe is cash on delivery (COD)," which changes the logistics quite a lot," he warns.
Ficarra agrees. He says that marketers should not overlook this fact, especially in Italy, where 95 percent of transactions are COD.
Ideal World's Wright believes U.S. marketers often make the mistake of thinking the objective is to simply sell their product to the home shopping channel's buyer. "The real game is about how you use live television as a sales platform," he says. "In other words, they've got to think through the pitch-the sales presentation-and how it relates to the price point. I think often they come ill prepared."
Considering the obstacles that may be awaiting marketers, is it worth it? Of course, when you consider there are approximately 140 million television households in Europe. Yet, the lesson to be learned here is to simply do your homework before making that huge leap. As Reustle puts it, "One of the things that we try to explain to people is: 'Yes, it may seem like it's going to take a lot more work but it pays off in the long run.'"
True Sleeper: From DRTV to Reality Television
By Marcel Avargues

It would just be another success story of a multi-channel direct response product if this product hadn't been showcased on the famous primetime reality show, "The Apprentice," broadcast in the United Kingdom.

Successfully launched in the U.S. by Thane, the True Sleeper reached the British shore just two years ago. The product, marketed as the "intelligent mattress topper," resolved a universally human problem: to improve one's comfort while sleeping. This was made possible thanks to a well-known material largely used in hospitals, visco elastic foam, which is touted to have "body memory."

Carefully reviewed and pre-screened, the U.S.-created program did not require drastic changes to comply with the stringent substantiation requirements of Great Britain. A few simple alterations to the language and this program was ready for the media battlefront. However, despite the relatively few changes that were necessary, this product also had to pass the product safety rules enforced in the U.K. In particular, the product was required to meet Britain's mandatory flame retardant capacities. This caused the manufacturing to come back from the Far East to the U.K., an unusual move in the DRTV world these days.

With such a potentially serious problem with which to contend, Thane brought in experts from SGS, the world's leading inspection, verification, testing and certification company, and U.K. manufacturer Vitafoam, to work on this product and determine how to alter it to pass the technical tests imposed by consumer protection and safety regulators in the U.K. without having any effect on the product's performance. While this added significant cost, it wasn't a showstopper, as freight and transportation savings largely balanced the extra costs of manufacturing in the U.K.

Once the product was approved, it became an immediate success on Thane's shopping channels, including Thane Direct and Stop & Shop. The True Sleeper also was a hit on live shopping channel Ideal World, third-party entertainment channels such as Paramount, and sport channels such as Sky Sport and Chelsea TV. And what's more, the best dayparts were, and still are, early in the morning between 7:00 a.m. and 8:00 a.m., when typical prospects wake up, stiff and full of back pain. They sleepily turn on their television sets while having their breakfast. This becomes the perfect moment to convince them that there is a solution for their night of misery, the True Sleeper.

Following a multi-channel approach to increase profitability, True Sleeper quickly established itself in catalogs after its TV launch. Catalogs such as Scotts of Stowe and Expert Verdict started carrying the product, and now True Sleeper has been added to the permanent home linen line for Expert Verdict as a result of its success. Print advertisements helped complete the plan, with significant results also achieved through magazine advertisements. Interestingly, the magazines didn't have to be linked with home products in order to be effective, as the most effective magazine was Amateur Gardening. What's the common denominator between gardening and the True Sleeper? One hobby causes back pain and the other relieves it.

Another important contributor to the multi-channel campaign's success was securing advertisements in daily newspapers.

Combining all these advertising elements with up-sells, such as bed covers and pillows made from the same intelligent "visco elastic foam with memory," this campaign created momentum that is far from reaching its limits. Without disclosing exact figures, Thane says that tens of thousands of units have been sold in the U.K. alone, and that this product will continue to do well.

LINKING PRODUCT SUCCESS WITH PRIMETIME PROGRAMMING
Emulating the Donald Trump format in the U.S., the British version of "The Apprentice" offered True Sleeper unexpected exposure and a sense of celebrity, when the product appeared as an item to be sold during one episode. On the shopping channel Ideal World TV, contestants had to generate the highest revenue during one hour on television.

One team selected the True Sleeper as one of their products, and won the competition with True Sleeper achieving the highest sales value. Alan Sugar, the Donald Trump-equivalent on the show, was later quoted as saying, "Maybe I am in the wrong business," as he watched this direct response product generate substantial revenue in such a short period of time. Finally, a primetime "Lettre de Noblesse" was given to a DRTV product and the power of DRTV was fully showcased to millions of British viewers.

Special thanks to Richard Whinfrey, managing director of Thane Direct, UK, for his input and permission.

Marcel Avargues is the executive director of ERA Europe. He can be reached at +33 (0) 1.47.95.43.72, or via e-mail at [email protected].
We would appreciate your feedback. To submit comments, point your browser to europejune.marketing-era.com.