PHOTO BY ROGER HAGADONE
Discovery Communications' Eileen O'Neill talks about launching Planet Green and teaming with Leonardo DiCaprio on a new TV documentary series that chronicles how one Kansas town is rebuilding in a more environmentally sound way.
By Vitisia Paynich
On May 4, 2007, Mother Nature unleashed her fury on the small prairie town of Greensburg, Kan. Residents had only 20 minutes to gather their loved ones, collect supplies and seek emergency shelter before the EF5 tornado hit the rural community. In the end, the twister destroyed 95 percent of the town, killing 10 people and hospitalizing 13 others. Still, many believe without those few minutes of warning, the death toll might have been higher.
Wind gusts up to 205 mph wreaked havoc on Kiowa City Memorial Hospital in Greensburg, causing one of the wings to collapse while 30 people remained trapped inside. Emergency crews were able to free the people and treat their minor injuries. The local high school, city hall and the central business district were completely decimated.
The destruction didn't spare area residents either. According to Angee Morgan of the Kansas Division of Emergency Management, the massive tornado leveled 961 single-family dwellings, as reported by USA Today.
Just two days after the tragedy, with tremendous resilience and determination, Greensburg townspeople began the healing process by making plans to rebuild. This time, however, they would do it better and stronger.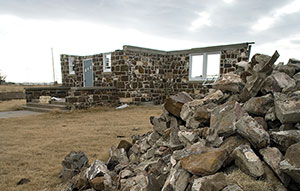 The old Boy Scout building in Greensburg was almost completely destroyed. The plan is to restore the building with the bricks salvaged after the storm.
Photo by Steve Hebert/Getty Images; Photos courtesy of Planet Green
Greensburg Mayor John Janssen sits among the ruins of one of the structures. Reconstruction is currently underway in both commercial and residential areas.
Photo by Steven St. John; Photos courtesy of Planet Green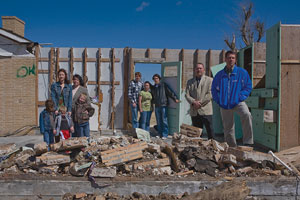 Greensburg resident Mary Merhoff with her mom, Pam Muntz, and children McKenna, Jace and Braiden at left. Students Taylor Schmidt, Alexis Fleener and Levi Smith in the middle. To the right is Greensburg superintendent Darin Headrick and high school principal Randy Fulton.
Photo by Steven St. John; Photos courtesy of Planet Green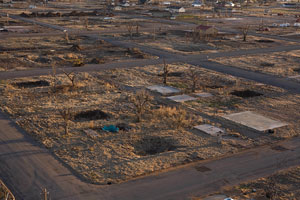 The view from the grain elevator of Greensburg. Nearly all of the towns' buildings were destroyed or heavily damaged by the May 4, 2007 tornado.
Photo by Steven St. John; Photos courtesy of Planet Green
Architecture graduate students at the University of Kansas work constructing Studio 804, a 1,600-square-foot building in Greensburg's downtown area that will be used as an art gallery and community gathering space.
Photo by Steven St. John; Photos courtesy of Planet Green
GREENSBURG MEETS PLANET GREEN
In Spring 2007, Discovery Com­muni­cations decided to re-brand Discovery Home-its lifestyle home-based cable network available in 50 million households-as the first-ever 24-hour eco-lifestyle network called, Planet Green. The new channel, which is set to launch on June 4, is focused on celebrating the planet through 250 hours of original eco-friendly programming.
At the helm is Eileen O'Neill, president and general manager of the network located in Silver Spring, Md. "Planet Green is first and foremost, the green brand for Discovery Communications," she notes.
In addition to dedicating programming to greenness and sustainable categories in the green space, "we felt that it was imperative that any TV offering in this space needed to have complementary new media-in particular, a web component," explains O'Neill. In August 2007, the network acquired Treehugger.com and launched PlanetGreen.com in April.
Right around the time O'Neill and her Planet Green team were formulating their plans for the network, they were also watching media coverage of tornadoes that ripped through the Midwest, along with the devastation left behind. One particular story about Greensburg struck a chord with the group.
O'Neill says, "The town leadership and town folks felt there was a terrific opportunity to build in a green way." Impressed by Greensburg's dedication to the project, Planet Green decided to film a television documentary series about the reconstruction.
"Being a network, we were familiar with the fact that Craig Piligian's Pilgrim Films & Television and Appian Way, which is Leonardo DiCaprio's company, had been interested in producing a series that highlighted the vast importance and logistics of what a sustainable living environment might be like."
Although DiCaprio and his company were also in discussions with NBC to produce various projects in the green space, Discovery and Planet Green convinced the actor/environ­mental activist to take on the Greensburg project.
In the beginning of September 2007, the Planet Green production crew began shooting the first of 13 episodes. The documentary series, simply titled "Greensburg," focuses on the citizens of the town as they try to rebuild their community and regain their quality of life.
O'Neill says that one of the goals of the townspeople "was that they really wanted to be a role model, not only for middle America, but potentially the world in terms of a community that is truly sustainable."
REVITALIZATION IS THE GOAL
The rural community had been experiencing economic hardships prior to the tornado. Oil, gas and trucking provided work for some, however, farming remained a staple of the local economy. Yet, automation and technological advances in agriculture gradually took a toll on this small town. The loss of jobs eventually forced many people to seek employment elsewhere.
In fact, the town's population of 1,500 had been steadily declining over the past few years. Much of that was due to younger Greensburg citizens, who went away to college and chose not to return after graduation. What's more, many of the town's businesses catered mostly to elderly patrons.
City officials view the rebuilding as a chance to breathe new life into the community by modernizing it and making it a more attractive place to work and reside.
However, while most town residents support the Greensburg project, others remain skeptical.
"I'm aware that there are some townspeople who had frustrations," notes O'Neill. "If you can imagine in any size town, not everybody thinks exactly alike." She points out that what really is impressive is that the support has been there and the town has made tremendous progress.
In some cases, a number of residents chose to start over elsewhere or decided to move in with family members in neighboring towns. In other instances, those unfamiliar with Greensburg's green rebuilding efforts, have opted for standard reconstruction of their homes.
FUNDING THE PROJECT
Where will the funds for the reconstruction come from? According to government sources, the rebuilding project will be funded by a number of public and private sources. The initial revenue will come from insurance while FEMA's Public Assistance grant program, other federal funds, state and local funds, and private donations will cover the remainder.
Planet Green will also do its part to aid private citizens interested in helping residents of Greensburg rebuild.
"We're going to make it easy to have people contribute if they're moved to do so," notes O'Neill, adding that they are considering in-program marketing. "It's certainly our interest to support the town, and we're hoping the profile of the series will bring additional resources even faster than what they may have expected." The goal is to draw viewers to its website at PlanetGreen.com, where viewers can make a donation.
PROJECTS ARE UNDERWAY
As multiple construction plans began to fall into place, golden shovels were breaking ground at ceremonies throughout the community-from schools and hospitals to churches and banks. The media attention surrounding the Greensburg project has attracted interest from what O'Neill refers to as the "rock stars in the green movement," such as Rick Fedrizzi, head of the U.S. Green Building Council.
John Picard, a renowned expert in the architectural design community of green, has also come to Greensburg to assist in the planning process. "He's been a terrific consultant for the town and for our documentary, as well," says O'Neill. "He really has a strong message for consumers in understanding the importance of greenness. His voice is going to be heard not only within the series but also online."
One of the main initiatives for the green project was to adopt specific LEED guidelines for building to a level of certification for all municipal buildings-whether for new construction or retrofitting. LEED stands for Leadership in Energy and Environmental Design. The U.S. Green Building Council sets the LEED criteria for green construction, which accounts for the sustainability of a particular building-whether it's for energy use, the materials used in the construction or lifestyle enhancements for people living or working in a building. In December, Greensburg became the first city in the U.S. to mandate that all municipal buildings be constructed LEED Platinum, which is the highest standard of efficiency and sustainability.
"What we're seeing is that community businesses are also going green," says O'Neill. Local dealerships like John Deere tractors and General Motors are rebuilding with green materials to LEED certification. Some businesses are even incorporating materials like Styrofoam-covered concrete blocks, which provide more efficient insulation in buildings, into their construction.
In addition, city leaders have been evaluating more energy-efficient alternatives. Prior to the tornado, the town relied heavily on a coal-based energy source. Today, Greensburg is considering wind, solar and geothermal options.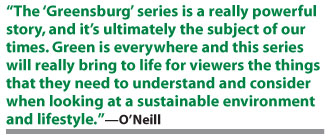 Homeowners have also been bitten by the green bug. Many are installing energy-efficient windows, skylights and even solar panels on their rooftops. They are also selecting native plants in their landscaping that require little or no water. According to O'Neill, Greensburg GreenTown is a nonprofit organization that has been a valuable resource, "giving local residents information about choices that they can make as they design and build their own homes."
TELLING THEIR STORIES
Over the past several months, the Planet Green cameras have followed the progression of the town's rebuilding efforts. O'Neill says the character-based series will allow the residents themselves to tell their stories, like Steve Hewitt, Greensburg's city administrator.
Born and raised in Greensburg, Hewitt was among those who left to attend college elsewhere, and then after graduating, pursued jobs outside of his hometown.
Hewitt had come back to the town to live with his wife and two-year-old son in 2006. Like many others on that fateful day in May, Hewitt's home was leveled. "You could just imagine a relatively young fellow being in this position, trying to care for his family's personal needs, while trying to lead his community against a backdrop of some pretty overwhelming [circumstances]," says O'Neill.
She believes that Hewitt's determination and courage is representative of the other town folks she's met in the community. "They're very proud of their community and very determined to make Greensburg, as they described, even better than it was."
Those who tune in to the documentary, which premieres in June, will not only get to know this small town, but will also learn ways they can incorporate green living into their own lifestyles. Through Treehugger.com and PlanetGreen.com, green enthusiasts can find more information on environmentally friendly products, as well as exchange opinions and ideas with experts and others on the Treehugger.com blog.
"The 'Greensburg' series is a really powerful story, and it's ultimately the subject of our times," notes O'Neill. "Green is everywhere and this series will really bring to life for viewers the things that they need to understand and consider when looking at a sustainable environment and lifestyle."
However, O'Neill stresses that the channel's message isn't to imply that going green is completely perfect. As she puts it: "It's about a bright green audience, a bright green future, and if we all are better about what we do, we're going to make a big difference for our planet."
What is LEED®?
The Leadership in Energy and Environmental Design (LEED) Green Building Rating Systemâ"¢ encourages and accelerates global adoption of sustainable green building and development practices through the creation and implementation of universally understood and accepted tools and performance criteria.
For more information, visit www.usgbc.org
Source: U.S. Green Building Council