ERA European Conference
By Robert Logie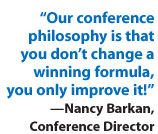 Of all the places to be in June, the millionaires' playground of Monte Carlo, nestled on the Mediterranean coast, is one of the more attractive options. Aside from the sun, sea and fun, there is another very good reason to be there this summer: the ERA European Conference takes place on June 22-24.
The 2008 conference will be the first since the ownership of the ERA European Conference was shifted from the ERA parent organization to the stewardship of ERA Europe. Re-christened as the Electronic HomeShopping Conference, the difference signifies not so much a change of name, but a repositioning of the ERA European Conference and Trade Show. Last year's highly successful show pointed the direction and set the foundation, with successful content and organizational repositioning. This is a European conference, but the focus is firmly on the international, taking the best of last year's conference and adding some exciting new elements.
In his letter to members, chairman of the ERA European board of directors, Branimir Brkljac,č states:
The ERA is the organization dedicated to promoting standards of excellence in home shopping conducted over television and the Internet. ERA Europe is the only organization providing, both in the U.S. and Europe a professional, a specific platform for this segment of retailers and service providers. The Annual Conference of the ERA in Europe is like no other. An unforgettable hotel, an incomparable location, but most of all, a meeting of some 400 international and influential decision-makers, representing some of the finest retailing business minds from Europe and across the world.
The Pre-Conference Advanced Seminar
One of the most significant and exciting developments of the conference this year is certain to be the introduction of the opening Sunday afternoon Pre-Conference Advanced Seminar, HomeShopping 2.0 - The Multimedia Consumer and You. This is a serious piece of educational content, presenting hard facts, real case studies and practical hands-on expertise. Hosted by seasoned industry experts Jeff Mollander and Rok Hrastnik, it will be delivered in two sections.
The first, Maximizing the Impact of Online for Your TV-Supported Business, will explain how DRTV marketers can use existing, proven direct marketing web strategies to capture demand generated by DRTV and convert it into new consumers and repeat purchases.
The second, Empowering Customers to Drive DRTV & Multimedia Retail Products, will focus on how and why the web's interactive nature demands new strategies. As host Rok Hrastnik explains, "Attendees will learn of a fundamental digital shift and how to adapt their DRTV business models. They will learn how to take both defensive and offensive positions, how to thrive and survive in this new hyper-connected world, where consumers are empowered (and are often in complete control)."
Building on the success of the Quiet Revolution sessions last year, there will also be two Electronic HomeShopping 2008 seminars — The Multimedia Consumer & You; and Intelligent Technology at Work.
And as in 2007, the European Government Affairs Forum will gather an impressive panel of VIPs to discuss international governmental affairs issues with key stakeholders and decision-makers.
Keynote Speakers
Having already secured Anne Lise Kjaer, founder and director of Kjaer Global, no ERA European Conference would be complete without more than one impressive keynote speaker, and following hot on the heels of last year's inspiring appearance from Dr. Jonas Ridderstrale, an announcement on the identity of this year's is imminent, and may already be known by the time this issue goes to press. The organizers are delighted to be able to present Anne Lise Kjaer, a highly charismatic, engaging and insightful speaker with vast experience addressing conferences and events worldwide, and her session is certainly one you should be sure not not to miss.
Party On…
There will plenty of opportunities, as usual, for high-quality, relaxing, after-hours networking, and there will be a truly special closing party this year. Plus, of course, the Ministry of Fun looks set to surpass itself again, and this year will offer the unique experience of a boat cruise along the coast to an exclusive restaurant. These may be fun events, but previous experience has also shown that the networking at these events is second to none, and demand is hot, with places filling up fast. Make sure you sign up early. Literally, don't miss the boat!
Now in Time-honored DR Fashion, Here's The Call to Action…
The organizers are also offering additional incentives, with discounts offered for every extra member of your company that you bring. With an educational program as strong as we've got this year, and the enhanced networking and business environments, why not share the love (and the knowledge) with your team?
Apart from the fact that there are many worse places to be in June than on the Mediterranean coast, this conference is the perfect opportunity to meet and do business with people and companies in Europe. It's an extremely friendly conference and the perfect forum for making top quality business connections.
If you're interested in attending as a delegate or exhibitor, you can register directly or ask any further questions at the ERA Europe website, www.eraeurope.org.
For up-to-date information, please check out the ERA Europe trends and technologies newsletter The ERA Newsshop at www.eranewsshop.eu.