ERA's Asia Pavilion-Learn
By Sieglinde Friedman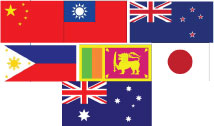 How to do Business in AsiaMany of our members are looking to Asia to manufacture products, sell products and services, or find Asian counterparts and colleagues. Come join us at the ERA Annual Convention, September 22-23, 2008, in Las Vegas, for the debut of the ERA Asia Pavilion on the tradeshow floor. This pavilion will serve as an umbrella to a wide and diverse number of Asia's most successful direct-to-consumer companies that are willing to help you to grow your business and become acquainted.
There is a common misconception that all Asian countries share the same values, attitudes and mindsets. This idea is occasionally promoted by some Asian politicians who emphasize pan-Asian values when arguing against the incursion of Western influence into their countries. When viewed in detail, Asian cultures share a variety of characteristics, but each distinguishes itself from the next through specific cultural elements and accepted business norms. Americans, for instance, make instant decisions-then take six months to implement them and rarely as intended; the Japanese take three to six months to reach a decision, but once made they can implement it, acting fairly quickly. Below is a simple representation of some of the cultural differences that will be fluoresced in Las Vegas.

All convention attendees are welcome to learn about the power of the Asian marketplace, meet its leaders and increase sales through new partnerships. The pavilion will include a lounge area, meeting rooms and educational content to ensure that participants are well informed in the ways in which to do business abroad. Further, some 120 Asian representatives from over 14 Asian countries will attend, some of whom will be looking to sell products and services in the West. Meet the leaders of ERA's Asia Committee, including: Acorn International, Body Action Enterprise Company, Brand Developers, Inc., Brand Power Australasia P/L, Creative Nations, DRTV Products Ltd, Fujisankei Living Service, Inc., Impact Products, Kayee Mo House Kayee TV Product Ltd., Oak Lawn Marketing Group, Positive Response Vision, Inc., Prime Network, Inc., Telebrands, India, TVC Skyshop.com Ltd. and many more.
And finally, the Asia Committee has undertaken a research study, which will result in a guide titled Doing Business in Asia. This guide, as well as roundtable discussions, will not only jump-start your Asian business, but will also offer you beneficial information on manufacturing, penetrating Asian media and buying or selling product.
Don't miss this valuable opportunity to meet the leaders in the Asian direct-to-consumer industry.
Sieglinde Friedman is the Electronic Retailing Association's vice president of strategy. She can be reached at (703) 908-1021, or via e-mail at [email protected].