Is your product ready for its close-up? The following tips can help you select the right media production company, determine the right budget and create the right DRTV show.
By David Lustig
The allure of direct response television (DRTV) can be very powerful. Think of it. Untold millions of channel surfing television viewers can potentially find your infomercial so incredibly interesting that they will put their remote controls down to watch your product or service presented in such a compelling manner that it is almost a fait de complete they will pick up the telephone and "dial now."
It is not pie-in-the-sky thinking. Your floor cleaner, unique mop or brush, never-seen-before skincare product, or exercise device can not only fulfill your inner desire for success, but at the same time, truly make people's lives a little easier, if not better.
So then, with the right product at the right time, the inevitable rhetorical question is: What can go wrong?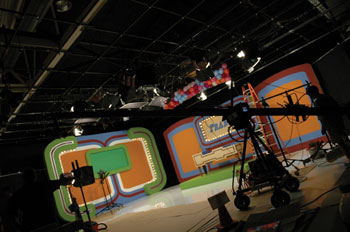 Marketers should first evaluate his or her product to determine if it's suitable for direct response television. If the product is prime for DRTV, the next step is looking for a media production company with a good track record.
The answer is plenty, with success hinging on three critical elements. One thing you can do little about is the fickleness of the viewing audience. The second is having the necessary capital to make it a reality, which is another matter altogether. But the third, and perhaps the most important part of making a successful infomercial, is simply doing your homework.
LOOKING FOR A GOOD FIT
There are dozens of excellent production companies specializing in the creation, from the initial handshake to watching your long-form show or TV spot unfurl on national television. There are legions of talented people in those firms who know what they are doing. The question is: Which of them is right for you? That is the homework part of the equation.
"You can dramatically improve your odds by selecting a production company that has a good success rate," says Tony Kerry, senior vice president of Script to Screen in Santa Ana, Calif., who suggests, among other things, finding a copy of Jordan Whitney's "Greensheet." Jordan Whitney is a research, consulting and publishing company that monitors, ranks and critiques DRTV infomercials and spots. Look at the shows that are most successful, then look and see who produced them. "Look for a company that has multiple successful infomercials on the air," suggests Kerry.
It's also recommended that marketers refer to Infomercial Monitoring Service's "IMS Report, "which also monitors and ranks DRTV shows and short-form spots.
Gene Silverman, vice president of marketing services for hawthorne direct inc. of Fairfield, Iowa, says that another good way to find the right company is to watch television.
"Look for infomercial spots that you like and are similar in category to the product you have," says Silverman. "Look for the production values that you think would be appropriate for your product and try to identify the production company that created it."
GET OUT AND POUND THE PAVEMENT
When you think you've found enough companies for a good short list, begin knocking on doors, whether it is literally or figuratively.
"The biggest question many people don't ask about their product is if it's viable for DRTV," says Eric Stilson, CEO and creative director of Stilson LLC of Sandy, Utah, a suburb of Salt Lake City. A good production company will help you make that decision, he says.
"Look for someone with a good track record," Stilson says. "Are they asking you the right questions? If so, be prepared for some tough answers."
Kerry agrees. "That's probably what I spend most of my time doing," he says, "determining if a project utilizes the feasibility requirements for success for DRTV. It's a huge question that we are all grasping for in this industry."
Deborah Kelly, manager of production at Torstar Media Group Television in Toronto, Canada, explains that the basic principle of DRTV is to get the viewer to call "right now."
"To do that," she says, "a product needs to appeal to the mass-market viewer at the right price point and solve a problem for them, enough so to make them say, 'I want that. I need that' and then have them pick up the telephone and order."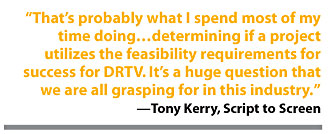 ASK QUESTIONS
One of the keys then, is to determine what the best production company is for you and your product. In some cases, it is not as easy as it sounds.
You can start by asking questions, says Dan Zifkin, president and CEO of Zephyr Media Group of Evanston, Ill. Lots of questions.
"How long have they been in business?" he suggests. "What clients do they have? What are their success stories? Do they do their production in-house? Ask to see finished examples of their work. Take notes."
"Ask for referrals and do whatever research you can on the Internet," adds Kelly.
"Ask about budgets and timelines," says Kerry, adding that you should make sure they can do your infomercial within your timeline by finding out if they have been successful doing that with other people."
THE ANSWERS YOU MAY NOT WANT TO HEAR
"If you're going to hire experts, you have to let them do their work," says Ian French, president and executive creative director of Northern Lights DRTV of Toronto, Canada. "DRTV is more science than art."
French says that his firm will ask you for details about the product, all relevant research and will want to know who are the competitors, price points, features and benefits.
Says Kelly, "Make sure they understand your product and the market you are trying to reach," adding that such information, no matter how much you feel it might be insignificant, will help the production company to help you reach your goal."
Tim O'Leary, CEO of Respond2 in Portland, Ore., says it is important to have your objectives and budget well defined and most importantly, be prepared.
"Be prepared to fully demo the product," he says, "as well as present all pertinent research, competitive information and available consumer data. Be prepared to discuss possible testimonial candidates, experts and product experts."
HOW MUCH?
This, almost everyone agrees, is the big question. "You can produce a DRTV infomercial for $20,000 and you can produce one for $1.5 million," says Stilson. "They both last 30 minutes but there is a world of difference between the two." It can be something shot in somebody's backyard, he says, or a slick, sophisticated production that has been scripted, storyboarded, set up with location shots and testimonials that look as good as anything else on TV.
"Overwhelmingly," says Kerry, "if you look at the most successful infomercials, most cost from $300,000 to $500,000 to produce." There are exceptions, he says, inexpensive kitchen products will probably cost less than a beauty infomercial, which would probably be on the high end."
"There are production companies that would like to shoot $350,000-plus on film with curtains blowing and nothing in a huge beautiful room but a bun machine," says Wendi Cooper, CEO of C Spot Run Productions LLC in El Segundo, Calif., "but then there are production companies that meet one's budget halfway and deliver the same for about $150,000. Then there are the '$30,000 bang-them-out-and-see-what-happens shows.' All of them have the same chance of working. That is what is mind-boggling."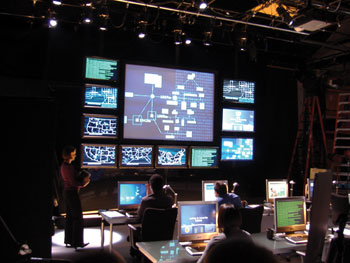 Before the cameras roll on any media production, the crew must prepare the set. Here pre-lighting is being done on a technology-related production.
Another important point is to not be in a hurry. Most well-done infomercials take between 60 and 120 days from start to finish, the majority about 90.
"If it's a simple shoot with no locations, talent schedules or testimonials, you can really reduce the production schedule," says Silverman. "But lots of exterior shots, testimonials, location shots and complex sets not only add to the production time, but can drive up the price."
TAKE IT FROM THE PROS
"Do your research," says Zifkin. "Don't assume that you know what your audience wants. Find out from them. Do a focus group. And be financially prepared for the production, telemarketing, fulfillment and especially the media costs." And, he adds, "be patient."
"Work with experts," says O'Leary. "I constantly meet marketers who say, 'I have a friend who can produce an infomercial really cheaply,' or 'I'm going to let my traditional agency buy my media,' and they almost always fail. Once you have chosen an expert, let them do their job."
"Look at everything you can do to build a product into a brand via multichannels of distribution," says Cooper. "But when doing so, remember that each channel has its own nuances and should be approached differently. If you want to make money in DRTV its purpose should be solely as a launching pad into the more cost-effective sales generators."
Kerry sums it up by saying that you should try and understand what you're getting into.
"Does your project have the feasibility for success?" he asks. "If it does, make sure you are adequately capitalized to both produce the show and roll it out. And you can dramatically improve your odds based on the vendors you select. Align yourself with people have much better success rates."
David Lustig is a contributing writer to Electronic Retailer magazine. We would appreciate your feedback. To submit comments, please e-mail the magazine at [email protected].