With 130-percent growth, Shopzilla aims to devour the competition. Founder and Chief Products Officer Farhad Mohit talks about the company's early beginnings, achieving rapid growth and selling the business to E.W. Scripps.
By Vitisia Paynich
When one first hears the name Shopzilla, the image that might come to mind is a gigantic dinosaur-like creature stomping its way through the streets of New York City, crushing small cars and what may resemble ant-like specimens are really frantic humans scurrying around, trying to get out of harm's way. However, in the e-tailing world, that creature is actually a turbo-charged shopping cart and those scurrying ants are waning Internet companies that must tame their own green-eyed monster known as envy.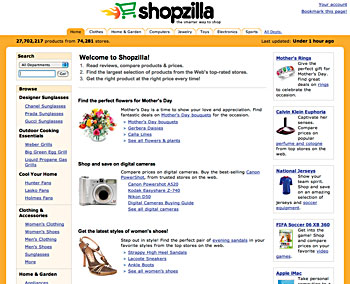 Shopzilla hosts over 75,000 retailers and 30 million products. What's more, the company updates its index 12 times a day.
Does this sound like an offbeat monster flick? Well, not exactly. It's more like a gilded tale of unwavering ambition coupled with an innate vision for making the impossible possible. And for Farhad Mohit, founder and chief products officer of Los Angeles-based Shopzilla, his unabated pursuit for the ultimate text search engine, is what has helped garner the company over $155 million in revenue, as well as the financial backing of media giant E.W. Scripps Co.
Nearly 10 years ago, Mohit launched BizRate, a web site that rates retailers based on consumer feedback. In 2004, BizRate Inc. officially changed its name to Shopzilla Inc. to reflect its transition into the shopping search space. Electronic Retailer spoke one-on-one with Mohit to discuss the idea behind the company, the need to create a better search engine and Shopzilla's new owner.
A SOURCE OF INSPIRATION
In 1978 at age nine, Mohit and his family fled their native Iran during the revolution. The family lived in France and England before moving to the United States when Mohit was just 13. In the U.S., he lived for a brief period in Northern California but relocated to Los Angeles in 1984.
He attended the University of California, Los Angeles (UCLA), earning a BS degree in mathematics/computer science and a BA degree in economics.
"I worked a couple of years after [graduating from] UCLA at Anderson Consulting," notes Mohit. "I was a systems integration consultant, which translates to computer programmer. I thought it would be much more glamorous than it was."
He admits his first taste of the corporate culture left him disillusioned and ultimately made him realize his future lay elsewhere. Thus, Mohit bid adieu to his computer programming job in Los Angeles, packed his bags, headed east and enrolled in business school at the University of Pennsylvania's Wharton School.
It was at business school where Mohit met fellow classmate, Henry Asseily, who would eventually become his partner and co-founder of BizRate.
Describing the first time he started working with the Internet, he says, "It was obvious to me that this was going to be a pretty interesting medium."
The grad student spent the next two years at Wharton formulating his business concept, which eventually became the thesis project for his MBA in entrepreneurial management. With Asseily's help, Mohit mapped out a business plan.
During that period, he looked to Yahoo! as a model. "Yahoo! was very useful for information search, but if you wanted to conduct a transaction, my thinking was that you're going to need more than an editor's arrangement of links," he explains.
The thought behind BizRate is an online point-of-sale entity that entices customers to provide feedback about their shopping experience with a particular retailer or merchant. The collected data is then used two-fold. First, it is packaged and sold back to the merchants and others interested in e-commerce research. Second, the information is offered back to the consumers in the form of bizrate.com, a web site that enables consumers to research products and comparison shop based on merchants' listings.
In 1996, Mohit graduated from Wharton with a business degree. And then in 1998, he and Asseily raised $4.5 million in venture capital funding to launch the business. "We used that [money] to develop the concept further. Initially, we were rating vendors at BizRate and selling the information back to the retailers-aggregating all the information to [create] the BizRate Guide, which was an online site where you could find all of the retailers and the types of products they sold," he explains.
Top Comparison Shopping Sites

BizRate
NexTag
Calibex
PriceGrabber
Epinions
Shopping.com
Froogle
Shopzilla
MSN eShop
Yahoo! Shopping
Note: These sites are listed alphabetically; not by ranking.
THE TECHNOLOGY
In the beginning, BizRate was using a third-party text search engine provider. However, Mohit says they were forced to manipulate the data once they received it from the vendor, which grew inefficient. "We decided in 2001 that if we were going to be in business and [focusing] on comparison shopping, then we're going to invest in the technology to build out and push the envelope for this specialized type of search," he recalls.
The third-party search engine provider "had a problem because it had a natural limit in terms of how fast it could build an index," notes Mohit.
BizRate's average limit was about 9 million offers from vendors. According to Mohit, it would normally take a search engine provider 24 hours to update an index to accommodate those 9 million offers. This proved difficult for BizRate, especially since the goal was to expand the number of retailers on its site and cover more areas of shopping.
"We either had to have our index be less than one-day fresh, or we had to keep it down to the 9 million limit. And when [we called our] third-party text search engine provider and said, 'We need a document search engine that can update more than 9 million articles a day,' they're like 'I'm sorry, you're the only one who's demanding that. You have 9 million updated documents a day? What are you, the Library of Congress?'" he says.
Mohit then explained to the provider that each offer is counted as one document and when the price changes on that document, an update is required immediately. When the provider explained that it didn't have the capacity to do that, that's when Mohit realized the company needed to build its own search engine.
Thus, BizRate built a search engine from scratch. According to Mohit, the proprietary technology has made a huge difference. "The engine that we released in 2003, suddenly allowed us to go from 8,000 sites to about 40,000," he notes. Today, however, the company has expanded to accommodate over 75,000 retailers and 30 million products, updating its index 12 times a day.
ATTRACTING CONSUMERS
So, how do customers utilize the comparison-shopping site? Mohit says visitors enter the site and type in what they're looking for in a product. For example, let's say a customer is looking for a digital camera. "First, we try to narrow down what type of digital camera you want, and you can narrow it down by attributes like mega pixels," he explains. The customer can then view consumer and professional reviews on the various cameras that match his or her request.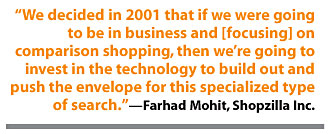 What's more, let's say you want the Canon Power Shot G6. The site will then take the consumer to a page that reveals all the retailers that carry that brand and model, the price, availability, shipping and handling, taxes, and the ratings. It's then up to the consumer to decide the retailer from which he or she wants to purchase the camera. The comparison-shopping site then drops the consumer off at the product page on the desired retailer's web site, so all that person needs to do is jump into the online shopping cart and head over to the checkout line.
Another area of growth was the company's target customer. "One of the driving forces of wanting to expand our inventory and wanting to build our own search engine was the fact that the Internet was becoming more mainstream. So, we wanted to go beyond gadgets for geeks and expand." The company is about 70 percent female versus male. That's because Shopzilla caters to the broader retail categories such as home and garden and health and beauty, along with consumer electronics.
BIG CHANGES
In November 2004, BizRate.com Inc. changed its name to Shopzilla Inc. According to Mohit, "It really was a decision that came about because of the transformation over the years of our business going more toward the shopping search space," he explains. Plus, Mohit says that while the BizRate name was a well-known company, many people associated it with business ratings.
The new name reflects the consumer side of the business with the comparison-shopping feature. BizRate Research is now a division of Shopzilla.
Since its inception, the company has experienced rapid growth with the technology and it has been quite profitable. "Last year, we did $155 million in revenue, and that was growing from $67 million the prior year, which is about a 130 percent growth rate," he says.
Shopzilla was not only on the radar of its competitors like Shopping.com and Froggle, but other companies relatively new to the e-commerce space. In June 2005, the E.W. Scripps Co. purchased Shopzilla for $525 million.
What made the offer attractive to Mohit was the fact that Scripps believed in the direction that Shopzilla was heading. "So, they [Scripps] came in with a very nice cash deal, cashed out our investors and basically have given us free and independent reign to grow this company as we see fit and go after that bright future. And what [this acquisition] means to us is really business as usual, except that we have an $8 billion, multi-pronged media company to back us."
We would appreciate your feedback. To submit comments, please e-mail the magazine at [email protected].