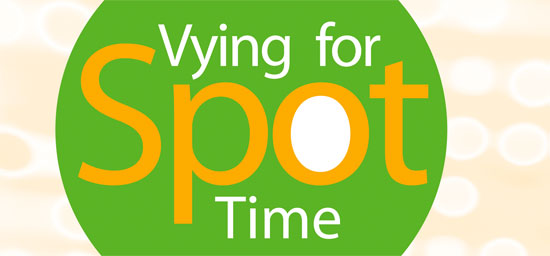 Buying short-form media is an art of its own-different from long-form media buying.
By Jack Gordon
The most obvious difference between long-form and short-form DRTV advertising is, of course, the one implied by the names. The long-form marketer has half an hour in which to demonstrate and sell the product. The short-form direct response advertiser has between 30 seconds and two minutes.
But another gulf between the two formats lies in the strategies and procedures for buying media time. Media buying for short-form DRTV advertisements is a very different game from buying long-form time. But it is also different from buying time for general-rate ads-the traditional 30- or 60-second TV commercials for products such as Budweiser or Chevrolet.
Most of the differences from general-rate advertising spring from the fact that "DRTV marketers are all about ROI," says Michelle Cardinal, CEO of Cmedia, a DR media agency in Portland, Ore. "That factor dictates what, when and how much media they buy. Unlike traditional general-rate advertisers, DRTV marketers aren't concerned with ratings or 'eyeballs'-unless they can get the high-rated media at a much-discounted rate, and it ultimately hits their ROI goals."
At the same time, however, ratings provide short-form DRTV media buyers with audience-measurement data unavailable to their long-form DRTV counterparts. Nielsen Media Research does not track and report such things as gross rating points (GRPs) or target rating points (TRPs) for half-hour infomercials. Short-form DR spots, on the other hand, air within programs that Nielsen does track.
"There is no such thing as a ratings system for long-form DRTV," says Dick Wechsler, CEO of Lockard & Wechsler Direct, a DR ad agency in Irvington, N.Y. Nobody knows how many television sets are tuned to a 30-minute infomercial. In trying to determine the number of responses they are likely to get if they buy a particular half-hour time slot on a cable network or a broadcast station, marketers and agencies have only their own historical data to work with.
The day after a half-hour infomercial airs, the long-form advertiser knows how many calls and orders it generated, but not how many viewers saw it. The short-form advertiser knows both. This allows short-form media buyers to gather different types of data about a campaign's responsiveness, Wechsler says, such as: "How many of 1,000 viewers are likely to respond to a given spot? If you know that, and you know what viewership is likely to be at any time during a particular two- or three-hour rotation, then you know what you can afford to pay for the spot."
As Cardinal's comments about the irrelevance of rating points suggest, some short-form DRTV buyers put far more stock in their own historical data about how certain types of products perform in certain time slots than they do in viewership numbers. But some feel differently.
"Most short-form buyers buy on history," says Eileen Joyce, executive vice president of Santa Monica, Calif., media buying agency Palisades Direct. "We buy on cost-per-thousand [viewers], just like general advertisers do. When we book spots from 9 a.m. to noon on, say, the ABC affiliate in Minneapolis, we know how many people are likely to be watching during each quarter-hour segment, and what types of people they are."
This gives her leverage in bargaining with stations. For instance, if she is targeting women aged 35-50, "why would I pay $300 for 6,000 women when I can get 10,000 women from another station for the same $300?"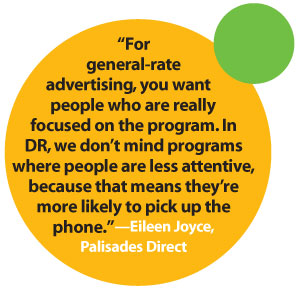 ROTATIONS
The great challenge of short-form DRTV advertising, experts say, derives from the fact that DR measures its success primarily by immediate results: How many orders or leads does a spot generate, and how does the revenue or value of those responses compare to the cost of the media time?
Factors such as cost per order (if you pay a station $100 for a spot that generates 10 orders, your CPO is $10) and media efficiency ratio (a time slot that costs $100 and generates $200 in revenue has an MER of 2.0 or 2:1) are important measurements in short-form DRTV, just as they are in long form. But the industry-average MER for short-form DRTV, according to Palisades Direct's Joyce, is about 1.75, vs. 2.0 for long form. In other words, every dollar spent on media typically generates about $1.75 in revenue for the advertiser.
The upshot is that in order to make money instead of losing it, DR spots almost always have to cost less than general-rate advertising spots. As Wechsler puts it, "For DR to work, the question is, how cheaply could you get that lead?"
If you want to buy media time cheaper than general advertisers do, you have to give up something. What DR marketers usually give up, Wechsler says, is the right to demand a specific minimum number of eyeballs, as verified by Nielsen ratings, or to target specific TV shows with ads that are guaranteed to "clear" (i.e., to appear) during those shows.
"A general-rate advertiser might go to CNN and say, 'I need 15 gross rating points in the daytime" or "I need X number of women aged 30-54,'" Wechsler says. Or the GR advertiser might buy a 30- or 60-second slot during the evening news or a network show like "Lost." That advertiser is buying guaranteed delivery, and the broadcaster has to make good.
"You usually don't buy [short-form] DR against specific programs, but over broad rotations," Wechsler says. A rotation might be 9 a.m. to noon, or 4 p.m. to 6 p.m., or 1 a.m. to 5 a.m., etc. In what amounts to a commodity-bidding process, the DR advertiser or agency bids a certain amount for available slots within a rotation. Some or all of those DR ads may not clear, depending on whether the station gets any higher bids. Those that do clear are likely to run during the lowest-rated segments of the rotation. The highest-rated spots will go to general advertisers "because if the network doesn't deliver the 15 GRP it guaranteed to Procter & Gamble, it has to give P&G future inventory for free in order to make good."
The need to buy time inexpensively explains why few DRTV spots air during primetime. But price isn't the only factor at work.
Joyce says that DR advertisements actually don't perform as well when they air on highly rated programs that rivet people to their TV sets: "For general-rate advertising, you want people who are really focused on the program. In DR, we don't mind programs where people are less attentive, because that means they're more likely to pick up the phone."
The logic is, for example, that even if commercial time during the Super Bowl were not prohibitively expensive, most DR advertisers wouldn't want it. How many Super Bowl viewers are going to stop watching the game to call an 800 number and buy a vitamin supplement?
PER INQUIRY
An alternative to bidding on available time during rotations is a strategy called per inquiry (PI) advertising, also known as revenue sharing. The PI approach owes its existence to the fact that "not every television station can sell all of its available [commercial] time all the time," says Bonnie Schalle, president of E&M Media Group of New York, an agency that specializes in PI advertising for DR clients.
The process works the same for short- or long-form DRTV advertising. When a station or cable network has a 30-second, 60-second or two-minute "avail" that it can't sell (or a half-hour time slot it can't fill profitably), "the station can't just go black," Schalle says. One option is to run a public-service announcement for free. Another is to run a PI spot or infomercial, and maybe make some money.
"We offer them our clients' spots, with our 800 number, and agree to pay the station a certain percentage of all [revenue generated by the spot]," she explains. For instance, if and when the A&E cable network has 60 seconds of unsold time, the network can run a PI spot. If it does, "we pay A&E based only on the responses," Schalle says. "If the spot generates 10 orders, and I agreed to pay $10 per order, then A&E gets $100 and I bill the client."
In that common scenario, "per inquiry" is a misnomer; "per order" would be more accurate. But depending on the advertiser's goals, the agreement can be based on inquiries or responses of any kind, not just on sales concluded.
Regardless of how the deal is structured, if the spot never runs, or if it gets no responses, neither Schalle nor the station gets paid.
Clients know the stations on which their ads may air (perhaps Lifetime for women's products or ESPN Classics for men's), "but I don't guarantee that the ads will run at all, never mind when," she says. On the other hand, "Clients only pay me if they get results. They don't pay for airtime."
Depending on the price of the product and the client's business model, the cost per order or per lead can range from $4 to $180, Schalle says. "I pay a big percentage of what I get to the stations. We make our money on volume. I'd rather make $1 each and sell 1,000 widgets than make $10 each and sell 10."
Since advertisers know what they're willing or able to pay for a lead or an order, and the negotiation is done in advance, the PI model is essentially risk-free. But Schalle doesn't recommend it as a good way to test and refine a DR ad or as the only form of DRTV advertising a marketer should do.
"It's best to do a bit of both-PI and [regular] media buying," she says. "You don't get a fair judgement of your offer or your item with PI." What you do get is some extra leads or sales at a predetermined cost.
WHAT ARE YOUR GOALS?
A great many factors influence the strategies agencies use to buy time for short-form DRTV advertisers. And not all agencies agree even about the best general tactics.
Take the question of how far in advance an agency prefers to buy media time. Cardinal of Cmedia says her ideal timeframe for short-form buying is two to three weeks in advance. "That allows for optimizing and trafficking tapes and confirming schedules," she says.
Carol Dotson, CEO of The Media Agency of Los Angeles, finds that it's best to book short-form time quarterly "once the campaign is in a roll-out position. Some networks give you better placement and fewer pre-emptions when you book earlier."
Dr. Nadia Ashrafian, CEO of Capital Media of Mission Viejo, Calif., specializes in the U.S. Hispanic market. On Spanish-language TV stations, she says, echoing Dotson, "the best deals come quarterly in advance." Indeed, the main difference Ashrafian notes for DR media buyers in her world is that "many Spanish-language stations do not accept :120s [i.e., 120-second ads]." Most do accept 90-second spots.
One point on which agencies agree is that the nature of a DR marketer's campaign and business model-not just the type of product-determines everything from the best markets in which to buy media time to the return on investment required for a media buy to be considered successful.
In long-form buying, everything revolves around cost per order and media efficiency ratios. The success of a 30-minute infomercial is determined almost entirely by how much you paid for the media time vs. how many items you sold. Secondary goals like branding or driving traffic to retail outlets rarely play much of a role in the calculation.
While a DRTV commercial that doesn't aim to generate immediate leads or orders isn't really a direct response spot at all, branding and retail objectives are far more common in short form. Cardinal says that branding is defined as a secondary objective by fully half of her short-form DR clients.
Dotson notes that many of her DR clients have both branding and retail objectives. "Direct response can drive retail and help build the brand just like general-rate advertising, but with fewer media dollars," she says.
Agencies agree that when those secondary objectives are in play, DRTV advertising can be a great vehicle with MERs that only break even-or perhaps even represent small losses. When a DR product is also available at retail outlets, Ashrafian says, "sophisticated clients balance the MER of a given media buy with the TRPs (target rating points) and potential retail impact of that buy."
Imagine a scenario, Ashrafian says, in which your MER is 1:1. You paid $500 for media time, and your ad generated $500 in revenue. You didn't really break even, because media time is not the only cost you incur to make and sell your product. "But you have essentially recouped your media investment. And assuming [you have] good creative, you have promoted the sell-through of your product at the point of sale," she says.
That beats a general-rate ad that gives you no immediate payback at all.
Media Buying Sources
Following is a reference list of domestic and international media buying companies for DRTV.
Note: this is a partial list based on companies that are listed in ERA's 2004 Membership Directory and other industry reference guides. Please visit www.retailing.org for a more complete list.
Jack Gordon is editor at large for Electronic Retailer magazine. We would appreciate your feedback. To submit comments, please point your browser to shortformapril.marketing-era.com.