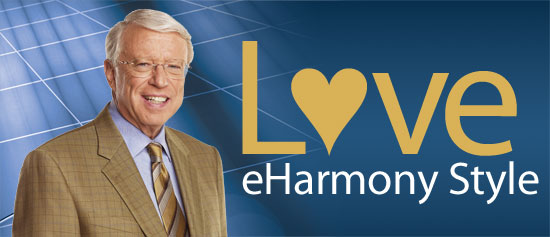 Dr. Neil Clark Warren founded eHarmony in 1998, with the goal of helping people form long-lasting relationships.
The online dating service and Donat/Wald, the company's direct marketing agency, share the secrets to sustaining a successful marketing relationship.
By Alexandra Harrington
After 13 attempts at writing radio ad copy themselves, executives at Pasadena, Calif.-based eHarmony were introduced to the Santa Monica, Calif.-based advertising agency, Donat/Wald. And true to eHarmony's mission, it was a match made in heaven. eHarmony CEO Greg Forgatch says that within 10 minutes of meeting Lucas Donat, CEO of Donat/Wald, he could tell Donat got it. "He resonated what eHarmony is all about, understanding our unique selling position," says Forgatch. "It was his vernacular, word choice, tone and passion that showed we were compatible."
As for Donat, he finds that eHarmony has a unique individual passion as a company and its staff, as a group, is wholly committed to their cause. Donat believes their success lies in the consumer's ability to grasp that eHarmony founder and spokesman, Dr. Neil Clark Warren, is 1,000-percent authentic and genuine in his interest in matching singles based on a better method. In their pairing, the companies are trying to bring a voice to the market that speaks of love and kindness.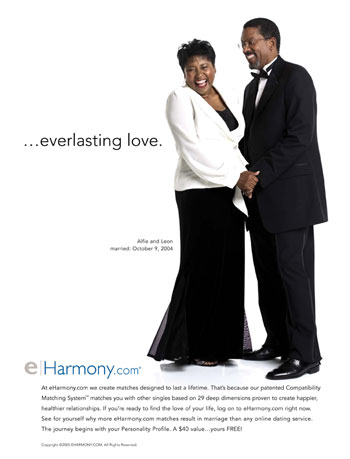 eHarmony makes certain that the people featured in its print ads are the genuine article. This real couple is also featured in the TV spots.
While Forgatch claims that eHarmony didn't have quantitative marketing objectives when the two met, they did have a plan. "Our marketing objective was to discuss a way to communicate to the world what eHarmony was about and why it would work," he says, "to communicate the eHarmony differential."
According to Donat, "eHarmony's marketing objective was to own the m-word."He explains that many players in the online dating category were just about dating, but eHarmony is about long-term relationships. He estimates there are 90 million singles in the United States and 90 percent of them will marry. With these facts, eHarmony reasons that there is a huge segment of the population that wants enduring relationships and this online dating service wants to own that position.
A MARKETING COURTSHIP
Launched in August 2000, eHarmony first advertised in radio and has since added television, print and online marketing. According to Forgatch, the company began its radio advertising in an effort to "crack the code of TV." After airing eHarmony's first 60-second television ad in June 2003, Forgatch notes the company "never looked back." He explains that the direct response medium allows the compassion and trustworthiness of Dr. Warren to come through and can get across what he calls the eHarmony difference. Through DRTV Dr. Warren can describe how the company's system of broad-based compatibility works much better than a picture and a paragraph-the typical offerings of a dating service. This honesty together with the testimonials from successful, real couples was a great success.
As a measure of its DRTV success, "Saturday Night Live" recently spoofed the company's ads in a sketch about 'Me-Harmony,' where cast members were matched with themselves dressed up as the opposite sex. Further, the company's first 60-second spot, "It's possible," won the Electronic Retailing Association's Best Short Form Intellectual Property Award in 2004.
For the online marketing component, eHarmony does not do e-mail advertising, but does do a healthy amount of marketing online. However, Forgatch doesn't believe online advertising fully conveys eHarmony's capabilities. "Large portals don't make the connection like TV or radio," he says. "There is a different frame of mind online; people are very productive and are there for a purpose."
Donat agrees. "Usually when working online, you want to minimize the steps a consumer has to take before making a purchase," he says. However the eHarmony model has consumers answering 436 questions before they pay a dollar. Donat contends that in taking these steps, it convinces consumers of the enormous buy-in and gives a sense of how deep eHarmony goes.
That sense of commitment carries over to the print ads as well. "The print ads have really struck a chord with consumers," says Donat. Noting that the couples are the genuine article, Donat describes eHarmony's "Everlasting Love" campaign. The still pictures are taken during the filming of the commercials and Donat says that the agency's job is just to get out of the way. "The picture tells the whole story," he continues. "Actors can't replicate the magic that resonates between the couples."
eHarmony Fast Facts
eHarmony

launched in August 2000

as the first online relationship service based on scientific research and an in-depth relationship questionnaire.
To date, eHarmony has over

5 million

registered users.
Growing faster than any other online dating site, the online dating service has quadrupled in size since January 2003, and currently averages

10,000 to 15,000

new users a day.
On an average day, eHarmony receives notice from 10 members of an engagement, marriage or other long-term, committed relationship.
With more than

6,000 marriages

to its credit since 2001, eHarmony has the distinction of producing more marriages per match than any other online dating service.
According to the company, its service costs more than other dating sites because its users want

more than just a date

. eHarmony members pay $49.95 for a one-month subscription, $99.95 for a three-month subscription, $149.95 for a six-month subscription, and $249.95 for an entire year of membership.
Source: eHarmony
TALKING ABOUT THE M-WORD
However, as with any relationship there were small challenges to overcome. Donat notes that the initial marketing challenge was to talk about marriage without frightening away singles. "We went with conscience and truth even against the counsel of those in the category at the time," he says. "eHarmony broke a lot of molds talking about long-term relationships." Along the same vein, Forgatch finds their greatest marketing challenge is to "stay above the noise and out in front of the online dating industry."
And just how do these two companies keep the romance alive? "The process is very collaborative," says Donat who calls it a dream scenario and claims to always smile, while writing eHarmony copy. "We are bringing a message of love at the deepest levels to the world."
The eHarmony Story
In 1998, Dr. Neil Clark Warren founded eHarmony with the goal of helping people build successful, long-lasting relationships. The doctor had been offering private counseling to others, conducting research and doing public speaking before creating the online dating service. eHarmony integrates clinical expertise with the latest technological advancements. What's the company's mission? To help millions of people find the right partner for life-long love and happiness. Dr. Warren is also the co-author of the book entitled, "Falling in Love for All the Right Reasons: How to Find Your Soul Mate."
The two companies' latest collaboration is a new welcome kit DVD package that will be mailed to new customers. According to Forgatch, the 10-minute video will help set expectations, give five steps for a better experience, help customers manage the process, and talk about any hopes or fears they may have. "It's a way to hold their hand," he continues, "to guide and support them through the ups and downs."
Their next venture includes the venerable retailer, Tiffany & Co. Each eHarmony couple that notifies the company of their marriage will receive a Tiffany bowl as a wedding gift. "It was Donat/Wald that brought us to a place where a trusted and respected company like Tiffany's is willing to partner with us," says Forgatch.
The proof of the online dating company's success is also found in the numbers. While Forgatch notes that eHarmony does not specifically do brand marketing, he comments that their brand has taken off as a by-product of their television advertising. In fact, according to a study conducted for eHarmony by TNS, the third largest market research firm in the U.S., 51.4 percent of adults recognized eHarmony compared to 39.5 percent for Yahoo! personals and 33.1 percent for Match.com. Further, the number of participants/users jumped 125 percent in 2004, surpassing 6.5 million registered users in 2005. And while Forgatch knows of at least 10,000 marriages due to eHarmony, he estimates there are tens of thousands more. Clearly with the success of eHarmony and its high rate of visibility the "marriage" of Donat/Wald and eHarmony is one for the storybooks.
Alexandra Harrington is a contributing writer to Electronic Retailer magazine. We would appreciate your feedback. To submit comments, point your browser to eharmonyapril.marketing-era.com.