Electronic Retailer's "Multichannel Marketer of the Year" stays ahead
of the curve when it comes to broadening its customer reach. This
lifestyle media company embraces a diverse marketing strategy that
comprises DRTV, retail, catalog, e-commerce, social networking and
other emerging technologies.
By Vitisia Paynich
Multichannel marketers are the catalysts who blaze the trail for others to follow, and they are the risk takers willing to experiment with new trends that marketing skeptics often dismiss as nonviable. It's that pioneering mentality that sets them apart from the pack by making their brands more prominent and their products more easily attainable.
"We would like to appeal to all consumers in whatever channel they wish to shop," says Lynn Powers, president of Gaiam Inc., a lifestyle media company. Thus, if you build the brand this way, then the customer has access to that brand-regardless of their shopping preference.
She adds that multichannel marketing is "a more difficult strategy to implement, but I think in the long run, it's the ideal strategy to have because then you're also not so susceptible to market fluctuations in any single channel."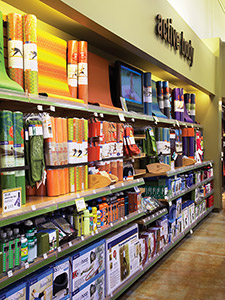 Gaiam's store-within-a-store environments, like this one at Elephant Pharmacy, can be found in 6,000 retail locations throughout the U.S.
It's that forward-thinking attitude and attention to new and innovative marketing trends that prompted Electronic Retailer to recognize Gaiam Inc. as the "Multichannel Marketer of the Year." We spoke with this year's award recipient to learn more about the company and the marketing practices that have helped to cultivate its brand.
Gaiam operates on a three-tier business model consisting of channels, product offerings and content. Those channels include DRTV, retail, catalog, e-commerce and social networking. Instructional books, DVDs, CDs and fitness equipment, as well as organic apparel and eco-friendly products make up the company's breadth of fitness and wellness products.
The Broomfield, Colo., company also produces original content consisting of programming accessed via broadcast and cable networks, online and even on mobile.
As a brand leader in the $227 billion Lifestyles of Health and Sustainability (LOHAS) market, Gaiam has maintained steady growth in revenue each quarter. In Q3 2007, the company generated 36 percent growth and $70.3 million in revenue. In addition, the company has expanded its multichannel efforts through a number of acquisitions and strategic partnerships forged over the course of three years.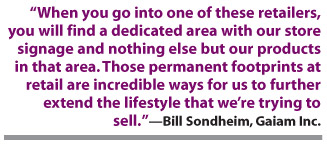 GOOD KARMA IN THE AIR
In 1994, Powers and Jirka Rysavy struck up a conversation on an airplane that would later change both their lives. Rysavy talked to Powers about his business that he founded in 1988 called Transecon Inc. The company, which stands for Transfor­mational Economy, distributed metaphysical and environmental products.
However, Rysavy aspired to do more with his company by making a difference in people's lives, as well as in the environment in which they exist. "Jirka told me about the concept and we talked about it over the next year," recalls Powers. She eventually joined Rysavy in February 1996, to help him put the plan in motion. That year, Inc. magazine ranked Transecon 34th on its list of "Fastest Growing Private Companies in America."
In 1998, Transecon changed its name to Gaiam derived from the word Gaia, meaning "Mother Earth." Powers says their objective was "to create sustainable businesses for likeminded people and give them an alternative to conventional products that are either healthier for them or healthier for the planet."
BUILDING BRANDS IN DRTV
Gaiam reinforced its market position in the home media distribution market when it acquired GoodTimes Entertainment (GT) in September 2005 for $35 million. The deal also included GT's extensive media library, giving Gaiam a stronger foothold in the fitness/wellness category and allowing the company to leverage the DRTV talent that once fell under the GoodTimes umbrella. One of those talents was Tae Bo guru Billy Blanks.
"In a way, Billy [Blanks] has gone through three phases in DR," notes Bill Sondheim, president of DRTV and trade at Gaiam. "He had his initial Tae Bo experience in the early '90s. Then in 2000, GoodTimes Entertainment identified him as a talent and successfully re-stimulated his career." Blanks entered his third phase in DR once Gaiam purchased GT.
Today, the Tae Bo master has evolved with his DVD series, transitioning from an equipment-centric fitness workout to a more life coach-oriented format. Blanks' evolution has resonated quite well with infomercial viewers and has led to stellar sales of his DVDs like "Billy's Bootcamp" and earned it top rankings in both Jordan Whitney's "Greensheet" and the "IMS Report."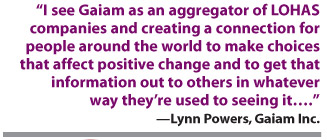 Sondheim cites The FIRM DVD products as another DRTV success story for Gaiam. The FIRM was actually conceived from the company's original programming-a perfect fit for the DRTV market. Today, the fitness brand has evolved from its aerobic and weight-training roots to a workout regime that incorporates yoga-a reflection of the changing demographic. In fact, The FIRM and Billy Blanks have become powerhouse brands on television and in the retail space.
"What I think is unique about the way we look at DRTV versus many of our competitors is the fact that we really look at it as a brand-building tool that also generates revenue, as opposed to some folks that look at it more as an opportunity to sell a widget that has a limited lifespan," contends Sondheim.
He explains that these type of companies utilize DRTV as a quick way to brand a product, sell it, and then get it into retail before its lifecycle ends. "Because we're looking at it as a brand, it never reaches a point in its lifecycle where it's time to 'blow it out,'" explains Sondheim. However, he notes, even if a particular product actually reaches the end of its lifecycle, that product is part of a brand with longevity, and therefore, "we care about protecting that brand's value proposition."
The wellness category is another market that Gaiam has successfully penetrated. Sondheim reveals that the company will be introducing new wellness products to the DRTV market in the coming months. "We've recently announced a series of DVDs that we co-produced with the Mayo Clinic, along with a series of kits designed for restorative fitness and exercise to help people live more active lifestyles during the aging process," he says.
STANDING OUT ON RETAIL SHELVES
Over the years, Gaiam has heightened its visibility in the retail space. Consumers can easily find their products in 68,000 retail stores across the country, which include Best Buy, Borders, Wild Oats, Whole Foods and more recently, Linens 'N' Things. What's more, Gaiam has forged partnerships with other big-box retailers like Target and Barnes & Noble to create store-within-a-store environments.
"When you go into one of these retailers, you will find a dedicated area with our store signage and nothing else but our products in that area," explains Sondheim. "Those permanent footprints at retail are incredible ways for us to further extend the lifestyle that we're trying to sell."
To date, Gaiam store-within-a-store environments exist in 6,000 retail locations throughout the U.S., with plans for future expansion.
GOING STRONG ONLINE
How has the company grown its Internet business? "We would like to move very rapidly toward more online [retailing] and less catalog, because it's the right thing to do for the planet," says Powers. "And, the growth in our e-commerce business has been very strong over the past two years."
Although Gaiam still uses catalogs as a marketing vehicle, Powers recognizes that more people are shopping online. "Also, we're finding that more people are looking for sustainable green living health products on the Internet. And our search engine and affiliate programs seem to be paying off."
One of Gaiam's other online objectives was to establish a community, which meant stepping into the social networking waters and aligning itself with a company that already had a presence in the space. The company acquired Zaadz, a leading social networking site in the LOHAS space with 85,000 members and 850,000 unique visitors per month.
The FIRM offers
fitness enthusiasts weight and strength training, along with yoga instruction.
"These people are very socially and environmentally responsible and they want to share their thoughts and feelings with the community," says Powers.
The company also set its sights on Lime, a multimedia company that emphasizes living a healthier, greener and more balanced lifestyle. Its programming content can be found on broadband television, SIRIUS Satellite Radio, national cable, online and on mobile phones.
Next, Gaiam sought out Conscious Enlightenment, an online and offline-based community comprised of print publications, a social network, video channel and an online video streaming subscription club.
All three entities make up the company's Gaia.com community.
In 2006, when BlackBerry was looking for a partner company to provide wellness and meditation content for its BlackBerry Audio service, it reached out to Gaiam. Powers notes, "We are the leading content provider for the fitness/wellness category. We own 50 percent of the market share. So, when you have that kind of market share and that kind of content, people seek you out and come to you for it."
She believes mobile is an ideal vehicle for Gaiam. "If you need a two-minute meditation, delivering content that way is great."
CORPORATE RESPONSIBILITY IS VITAL
Gaiam believes it's every company's corporate responsibility to do the right thing, especially when it comes to making decisions that have an impact on the environment.
In 2006, Gaiam entered into partnership with The Conservation Fund to launch the world's first "Go Zero" sustainable shipping program. The green initiative requests that online customers add a small donation at checkout that goes directly to The Conservation Fund, which enables the planting of trees to offset carbon dioxide emissions that result from product shipping.
During the first month of the program launch, "we expected a five-percent response rate. I think we had more than a 30-percent response rate," recalls Powers. "To this day, it's still hovering at over 25 percent of people saying yes to the donation, because it's the right thing to do and we made it simple."
Business Ethics magazine ranked Gaiam among the "100 Best Corporate Citizens" in its Spring 2006 issue.
Another important issue the company is addressing is the Fair Trade initiative. Gaiam is working with Fair Trade organizations in mostly third-world countries to market artisans' crafts and goods online. Most of the profits from those transactions go directly to the artisans so that they're able to earn living wages.
"We also have standards set up in all the factories that we deal with to make sure that they are socially and environmentally responsible," says Powers. "I will tell you that we're not perfect. I'm not here to say that all the factories that we use follow every single standard that we're setting, but we're moving in baby steps every time, and we're making people responsible for annual improvements."
What does the future hold for the Multichannel Marketer of the Year? According to Powers: "I see Gaiam as an aggregator of LOHAS companies and creating a connection for people around the world to make choices that affect positive change and to get that information out to others in whatever way they're used to seeing it-whether it's through DRTV, on the Internet, in the stores or as part of a global community."