Response to this Top 10 infomercial generated a spike that traditional call centers couldn't handle. But home workers could-thanks to advanced technology.
By Jack Gordon
Right off the bat, Boardroom Inc. knew it had a hit on its hands-as well as a problem. In October 2005, the Stamford, Conn., parent company of Bottom Line Publications began airing an infomercial for a 500-plus-page book called "The World's Greatest Treasury of Health Secrets." Containing advice from 498 "medical superstars" from traditional and alternative medicine, the book offers tips on how to treat a multitude of ailments-ranging from cancer and heart attacks to memory loss and migraine headaches. With two companion volumes of medical tips thrown in as added incentives, "Health Secrets" sells for $39.95 plus $7.95 for shipping and handling.
Calls flooded in from eager buyers-far more buyers, in fact, than the call center could handle, especially in light of a peculiarity in the infomercial. Unlike most long-form direct response TV commercials, which repeat the offer and show the 800 number throughout the program, the call to action for Health Secrets doesn't appear until the 25-minute mark of the 28.5-minute commercial. The ensuing flashflood of calls gives new meaning to the term "spike."
Boardroom's telemarketing manager, Midge Miller, describes the phenomenon like this: "No calls come in before the 25th minute. Then they all come in at once. And three minutes later, the infomercial is over."

When the show airs on a national cable network, Miller says, she has seen as many as 800 calls pour in during a five-minute window. The economics of traditional call centers simply do not allow them to staff up to handle spikes like that at whatever times the commercial might air. The center Boardroom originally used was overwhelmed.
So the good news was that the Health Secrets infomercial immediately proved it could generate a terrific response. The bad news was that far too many calls were dropped for lack of agents to take them.
Boardroom rejected the idea of changing the show to introduce the call to action earlier. "We wanted to give people all of the information before they picked up the phone," Miller says. "We didn't want [telemarketing] agents answering questions; we wanted the show to answer the questions first." It was considered imperative, in other words, that the program do all of the necessary selling before buyers called to order.
Boardroom wished to expand its media buying quickly to capitalize on the book's appeal, but that meant the call center staffing problem had to be solved. The dilemma led the producer to LiveOps Inc. of Palo Alto, Calif., a sort of virtual call center that promised more flexible staffing through the use of agents who work out of their homes. Within a month after the infomercial first aired, Boardroom began splitting its business between the original, brick-and-mortar call center and LiveOps. LiveOps now handles the entire account.
Health Secrets has become a Top 10 long-form program, as ranked by Infomercial Monitoring Service (IMS) Inc. Home agents are the reason why, Miller says. In capsule version, the story is simply this: Because home agents were available to answer the calls during those extreme spikes, Boardroom captured more revenue, lowered its cost per order, boosted its media efficiency ratio and generated enough money to buy more media, thus fueling a virtuous cycle.
According to both Miller and LiveOps, however, there's a little more to it.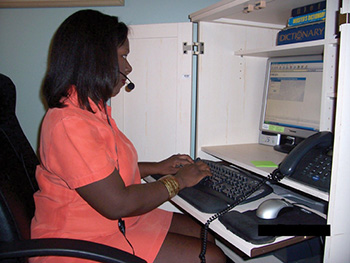 Kim Conner, a LiveOps home agent based in Madison, Wis., takes calls for the Health Secrets campaign.
CHANGING THE GAME
Founded in 2000, LiveOps employs only home agents. It has no call-center facility, no building with cubicles and phones. Supervisors, themselves home workers, interact with the agents via the web in chat rooms. Other home workers handle the auditing of recorded calls. Agents schedule their own hours using a web-based workforce management system.
Crucially, from Health Secrets' point of view, those agents can be scheduled in increments of as little as 30 minutes. "We can have 3,000 agents working for one half-hour and 200 the next," says LiveOps' chief technology officer, Lloyd Tabb.
Though its roots are in the direct-response world, LiveOps' 9,000 independent contractors also handle incoming and outgoing calls for clients ranging from pizza and floral delivery companies to credit card providers. All of the company's own home agents are in the United States, but it routes some calls overseas for outside clients who use its technology on a "hosted" basis to deliver calls to their own telemarketing workers.
LiveOps' ambitious goal is to "build the world's largest work platform for home agents," Tabb says. "We want to network the world's work. We'd love to have 500,000 agents on our workforce platform."
That "platform" is the key to the operation. Many of LiveOps' engineers, including Tabb himself, came from Netscape. The proprietary technology they have built not only allows the home-agent model to work, but also enables the various pieces of the virtual call center operation to "interoperate in very sophisticated ways," he says. Gateways in the system convert traditional phone lines into voice over Internet protocol (VoIP), "and in VoIP we do call routing, call reporting, auditing, workforce management and interactive voice response [IVR] applications."
A core benefit of the technology is the workforce-management part, particularly the highly flexible scheduling it enables. "There are three basic challenges in any DRTV campaign," Tabb says: "Get them to call, answer the call and get them to buy." In Health Secrets' case, "answer the call" was the missing piece. And while the unusually brief, steep spike in call volume made the dilemma especially acute for Health Secrets, the same problem faces many DRTV campaigns.
The difficulty has to do with the peaks and valleys of call traffic in response to DRTV commercials, which don't mesh with the economic realities of brick-and-mortar call centers, Tabb says. Traditional call centers can remain open and staffed 24 hours a day, but they must schedule employees for significant blocks of time. This doesn't necessarily mean eight-hour shifts, "but people have to be willing to drive to the facility to take the shift, so four hours usually is the minimum," Tabb says.
If a center receives thousands of calls in one half-hour period and only a few hundred the next, that is very hard to manage. If the center tries to staff to a happy-medium point, sometimes agents are sitting with nothing to do, and sometimes they're swamped. During the peaks generated by DRTV programs, Tabb says it is an "assumed, accepted thing in the industry" that the center will drop 10 to 15 percent of the calls. With a drop rate like that, he says, "you're not always sure if your show is underperforming or if the call center just got busy."
HOME ECONOMICS
If you start with home agents who live at their workplaces and add an effective online scheduling system, the economics of staffing change entirely, Tabb says. LiveOps' agents are essentially entrepreneurs who can pick their own hours and also choose particular programs to work on. The "center" can schedule them in 30-minute increments, so the classic headache of 3,000 calls one half-hour and 200 the next becomes a non-issue.
Last September, Tabb recalls, Health Secrets made a last-minute, fire-sale buy on a "huge" TV spot-a weekend daytime slot on a national cable network "with lots of traction." On 12 hours' notice, he says, "we were able to add an additional 1,200 agents for that half-hour." The abandon rate (percentage of dropped calls) for the tremendous spike was only 0.5 percent.
Another technological advance: When callers reach the campaign's 800 number, the routing software sends them not to the "next" available agent but to the "best" available agent for that campaign. This means the highest performers get more calls, make more money and stay with LiveOps longer. It has obvious advantages for the campaign, as well.
The "best" agents are determined by a number of metrics based on an individual model created for each client, Tabb says. "For some clients, it's conversion rates. For others it's time on the call or how well you treat clients, [as determined by] your audit score. We constantly rank agents based on those factors."
It seems to Boardroom's Miller that the home agents, as a group, are better qualified than most she has used elsewhere. "We've dealt with a lot of telemarketing companies," she says. "Many of them use college students, and there's a lot of turnover. My feeling is that LiveOps' people are older, more mature and stick around longer."
According to LiveOps, in fact, 52 percent of its agents are work-from-home mothers, 80 percent are college educated and 75 percent have prior sales experience. Some are disabled or care for disabled relatives at home. The company claims an annual turnover rate of only 7 percent, as opposed to more than 100 percent for the telemarketing industry as a whole. Tabb says the home-agent jobs are attractive to so many people that the company can afford to be picky about who it hires: "We get 2,000 applications a week and hire about 50 of those people."
Last September, Boardroom Inc. published a new, expanded edition of the Health Secrets book and revamped its infomercial. Like the original show, the second one uses a news-interview format in which the book's editor, medical writer Arthur P. Johnson, answers prepared questions. In the new show, TV personality Hugh Downs replaces New York radio personality Barry Farber as the interviewer. Additional testimonials from contributing doctors also have been added.
But the call to action still doesn't come until minute 25, and the incredible five-minute traffic spike is still "like nothing I've ever seen," says Tabb.
The difference in the second launch was that this time, the calls got answered. As Miller puts it, when Boardroom met home agents, "We fell in love."
Jack Gordon is editor at large for Electronic Retailer magazine. We would appreciate your feedback. To submit comments, please e-mail the magazine at [email protected].